[ad_1]


Royal Caribbean's Spectrum of the Seas is back in Asia!
Asia's largest cruise ship will be homeporting in Singapore until 2024, giving Southeast Asian travelers easier access to the Royal Caribbean experience and more sea-travel options to explore the region in style! Some of the usual stops include Port Klang (gateway to Kuala Lumpur) and Penang in Malaysia, and Phuket in Thailand.
While backpacking is our default travel syle, every now and then, we allow ourselves to indulge in something more, um, indulgent. And there is no better way to pamper oneself than by going on a cruise! Thankfully, Royal Caribbean invited us to join one of their sailings so we could document the journey from start to finish!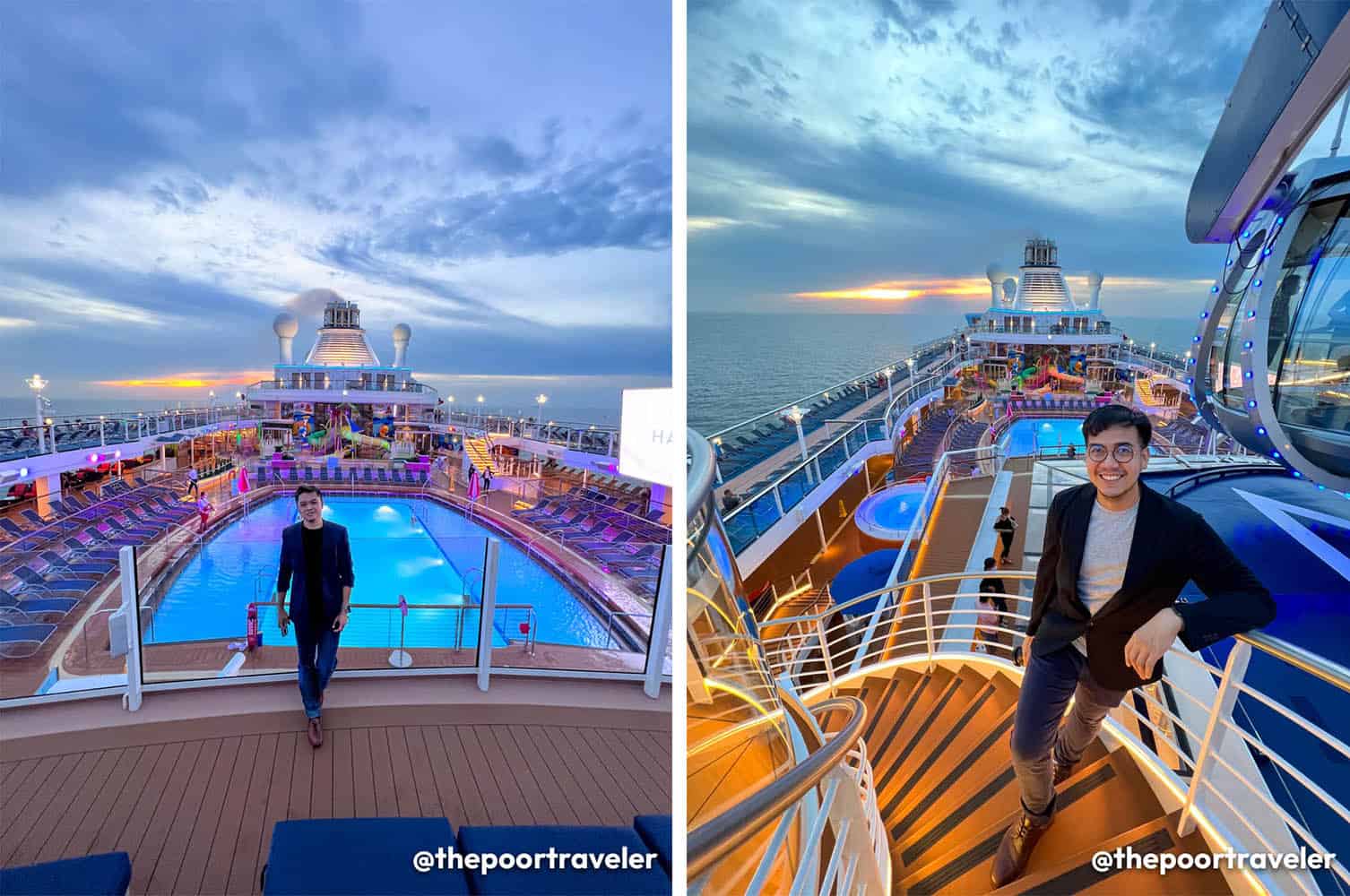 In this article, we'll share with you the entire experience, from the travel requirements to the check in and boarding process to the shore excursions. This is great if you're joining a Spectrum cruise soon and you need info on what to do or how to prepare. If you've yet to book but considering it or you're simply curious about the prices, we have a separate post about that here: ROYAL CARIBBEAN SINGAPORE CRUISE PRICES
And if you decide to go on a cruise, book at www.cruising.com.ph, managed by the official Royal Caribbean representatives in the Philippines, Arpan Air. By booking on this site, you automatically get Customer Support. If you book on the international website, you'll have to call the Royal Caribbean office in the United States.
And if you use our promo code — WORTHIT — you'll get an additional 5% DISCOUNT on the cruise fare! You can use this on top of any existing promos or discounts.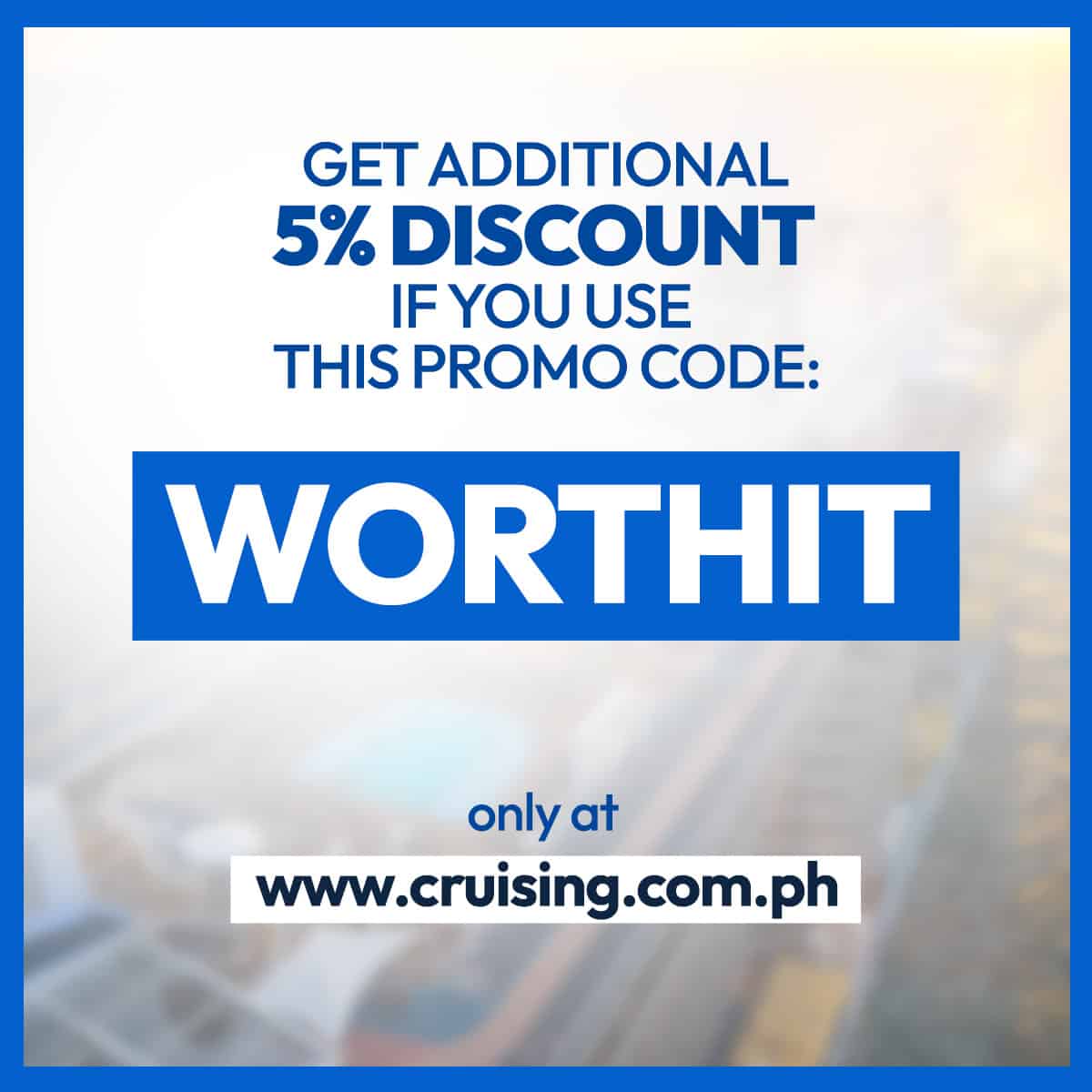 ---
WHAT'S COVERED IN THIS GUIDE?
What are the travel requirements when joining a Singapore cruise?
Here's a checklist of the things you need to prepare before the cruise.
Passport. Must be valid for at least six (6) months.
Photocopy of passport. You will be leaving your passport with the cruise staff upon boarding, so it's best to have a copy of it with you. Don't worry, you'll get it back before you disembark.
Visa (only if applicable). Philippine passport holders DO NOT need a visa.
Proof of full vaccination. All guests above 12 years must be FULLY VACCINATED against COVID-19. VaxCertPH, vaccination card, and yellow book or ICV (International Certificate of Vaccination) are accepted as long as they can be verified. More details in the next section.
Singapore Arrival Card. Accomplish this within three days prior to your arrival in Singapore. You'll find the card here.
MySejahtera App. If you plan on disembarking in Malaysia, you need to download this app and enter your vaccination details and upload proof of vaccination. Download it here: Android, iOS.
Credit card or debit card. This isn't required but preferred. Otherwise, you'll have to make a refundable deposit of USD 100 upon boarding. (You'll get it back before you disembark.)
Royal Caribbean App. Use this mobile app to check in at least three (3) days ahead of the sailing date. You can also use this app to make reservations for restaurants and activities on board. Download it here.
SetSail Pass. After checking in using the app, you'll get a SetSail Pass, which serves as your boarding pass. You may take a screenshot of it or print it out because you'll need it when boarding. More info about this below.
Luggage Tags. When you book a cruise, you'll be sent a set of e-docs (Guest Ticket Booklet), with all the reminders and other details of the trip. You'll also find your luggage tags there. Print them out but don't attach them to your bags just yet. It looks like this: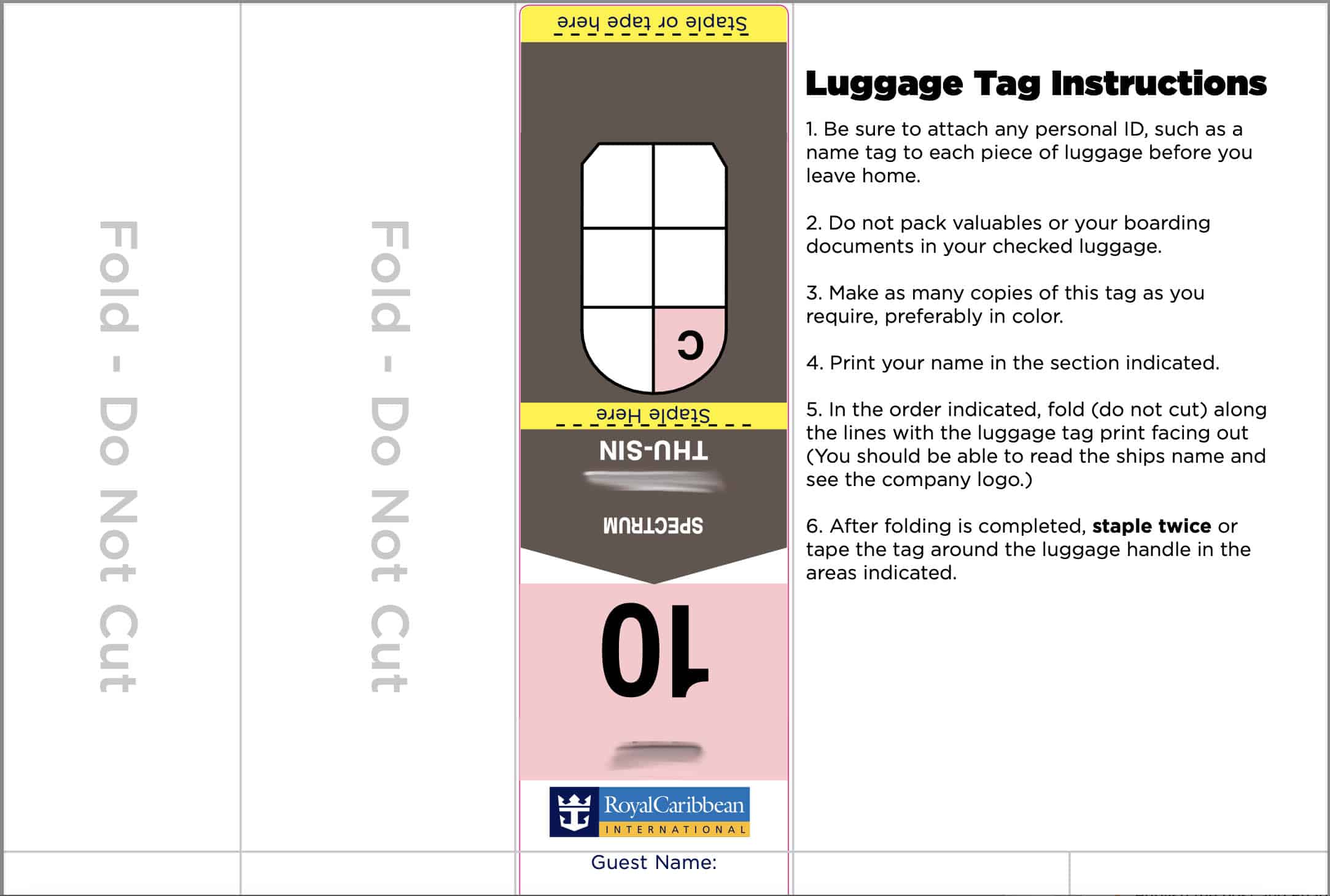 ---
What are the vaccination requirements?
All guests above 12 years must be FULLY VACCINATED against COVID-19 at least 14 days before sailing date..
You are considered fully vaccinated if you have received the two doses of acceptable vaccine brand (or one dose if Janssen/Johnson & Johnson or CanSinoBIO). See details of accepted vaccine dosage here.
For children aged 12 or below, COVID-19 vaccination is NOT mandatory. But if the kids are vaccinated, they can follow the test guidance for vaccinated guests.
For Filipinos, the following may be used as proof of vaccination provided that they are in English, readable, and clearly indicate the personal details that match those in the passport:
VaxCertPH
vaccination card
ICV (International Certificate of Vaccination) or yellow book
The details on your vaccination proof must be verifiable.
Note that a booster shot is not required to enter Singapore or Malaysia, test or no test. BUT the Philippines requires a negative antigen test result if you don't have a booster dose.
IMPORTANT! The information below is as of September 2022. But these policies change quite a lot. Check this page for the latest updates.
---
Is a COVID-19 test required to join the cruise?
Testing requirements vary depending on your vaccination status and age:
Fully vaccinated guests age 12 and above: no pre-cruise testing needed if the sailing is 9 nights or shorter. (If you book 3-5 nights only, no need for a test.) Only those who are sailing for 10 nights or longer need to present a negative test result.
Unvaccinated children age 5-11: negative antigen or PCR test, taken within 3 days prior to boarding, is required.
Children below 5 years old: no need a pre-cruise test.
If you don't have a booster dose, you may need to undergo a COVID-19 antigen test when traveling back to the Philippines.
IMPORTANT! The information below is as of September 2022. But these policies change quite a lot. In our most recent trip, testing was required even for fully vaccinated adults. But that has since changed. Check this page for the latest updates.
---
How to check in using the Royal Caribbean App
You should check in not later than 3 days before your scheduled sailing. Here's how:
Download the Royal Caribbean app here.
Link your cruise to your app by entering your last name, date of birth, and reservation number. It will then display your upcoming cruise.

On the home page, click CHECK IN at the bottom menu. It will display a review of possible health requirements. Click CONTINUE TO CHECK IN.
Fill out the Travel Info section. You'll need to provide the following:
– A scan of your passport
– Security photo
– Country of residence/birth
– Crown & Anchor Society Loyalty Number
– Address
– Emergency contact details
– Credit card or debit card

Enter your Arrival Time.
Provide your vaccination details, including the manufacturer and date it was administered. You'll need to upload a copy of your proof of vaccination. If you have a booster dose, provide the info as well. The info you submitted will be validated. It will take some time.
Answer Health and Safety questions on the specified date, usually the day before your sailing date.

Click VIEW SET SAIL PASS. After another review of the health reminders, the system will generate your pass. It should contain your name, stateroom number, reservation number, and a unique barcode.
You can view your SetSail Pass even if you haven't answered the health questions. Take a screenshot of your SetSail Pass for easier use. You'll also receive an email notification. It looks like this: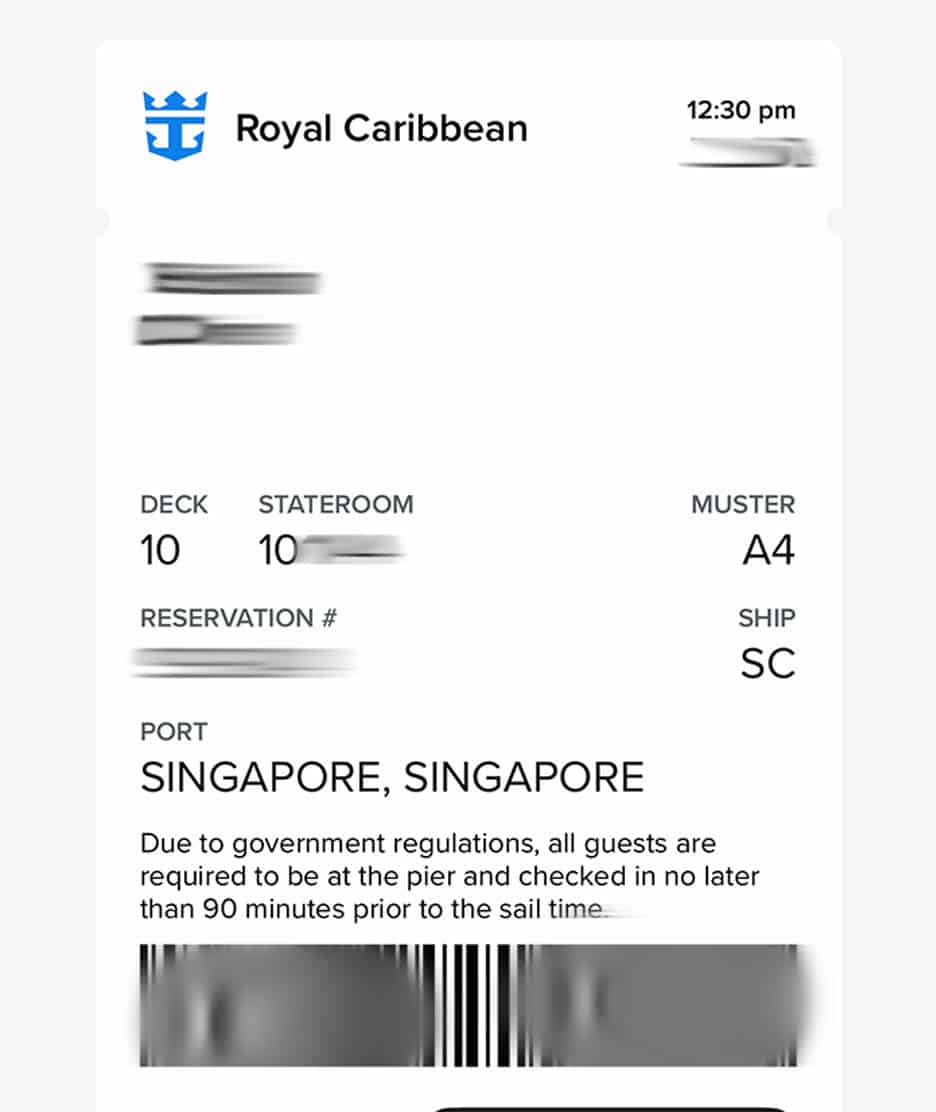 By the way, you'll see an orange notice that reads "Not Yet Cleared to Board!" even if you have completed all the sections. Don't worry about it for now. This will change once you pass the wellness check at the terminal.
---
What to pack? What to wear?
One of the most common misconceptions about cruising is that it's too formal. And this is not true, at least for Royal Caribbean.
True, there is often one formal night per sailing. But it is optional. You can totally skip it if you're not into it. And it's not that strict. On Spectrum of the Seas, jeans are acceptable on formal night. Just avoid wearing t-shirt, shorts, slippers, and sneakers at the event. (On our last sailing though, there wasn't a formal night. But we still decided to dress up a bit one evening. LOL)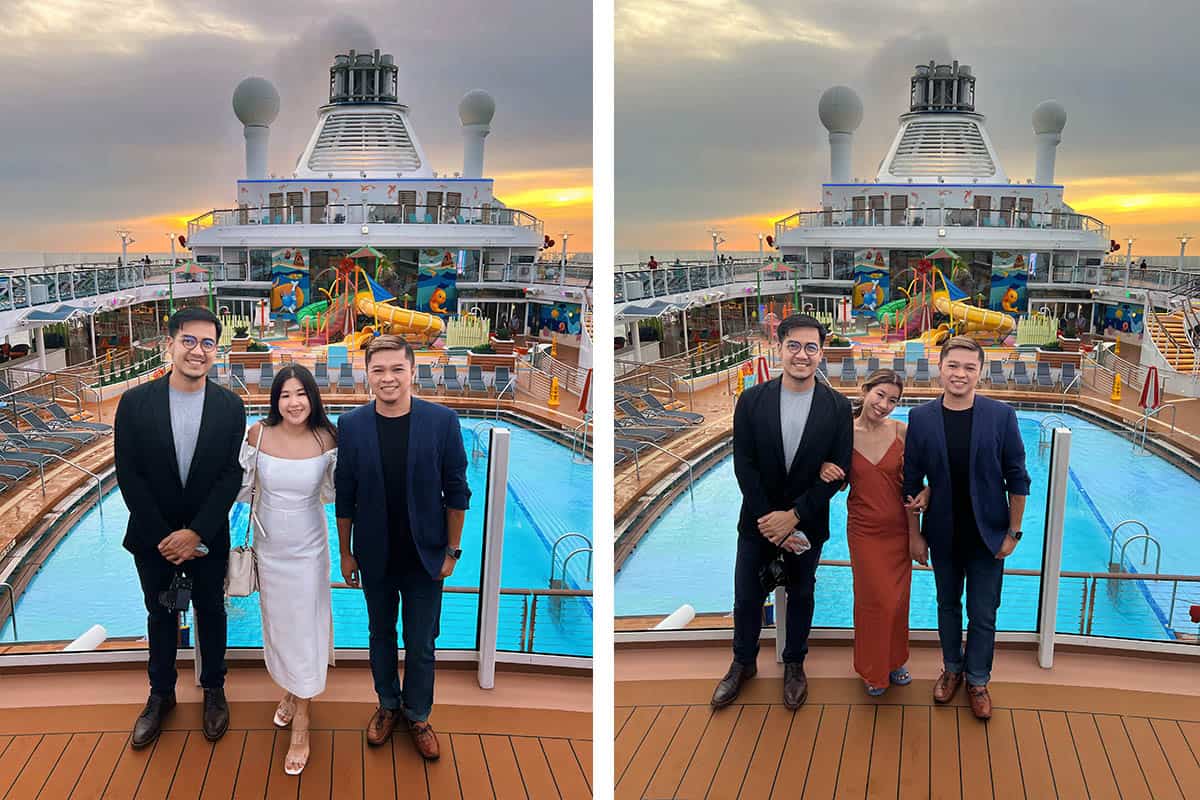 Some restaurants also enforce a certain dress code. But these are not formal, more like smart casual. For the Main Dining Room and other specialty restos, a dress/blazer for women or anything with a collar should be enough. Again, just avoid t-shirts, shorts and sneakers here.
Outside of these, casual is completely fine. I recommend bringing one blazer that can pass off as semi-formal or business attire so you could get into less casual spots and events.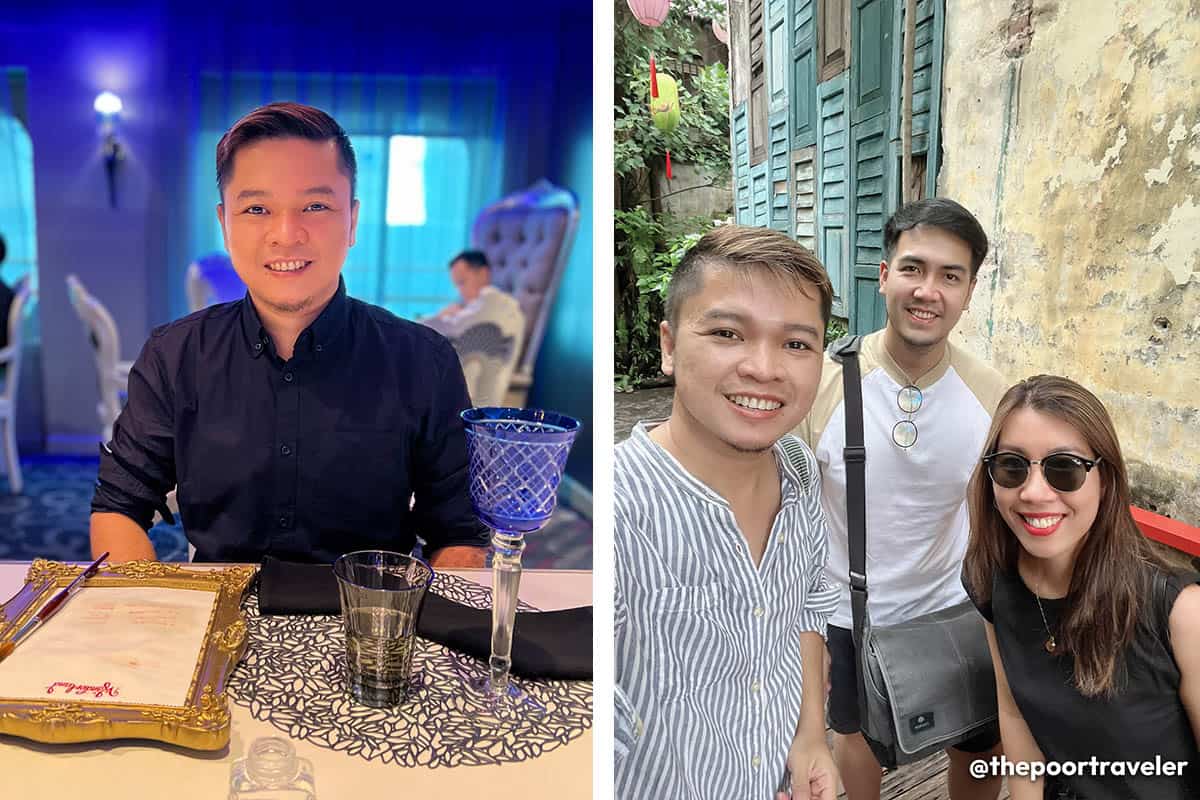 When I'm going on a cruise, I always pack two sets of clothes per day. This is NOT a requirement, just a personal preference. The reason is, I like wearing casual, comfortable clothes when touring, especially when getting off the ship. But in the evenings, I embrace any opportunity to dress up a little. (As a full-time travel blogger, I rarely come across such situations. LOL!)
And oh, if you intend to swim or take a dip, bring swimwear, too!
In addition to clothes, don't forget to bring the following: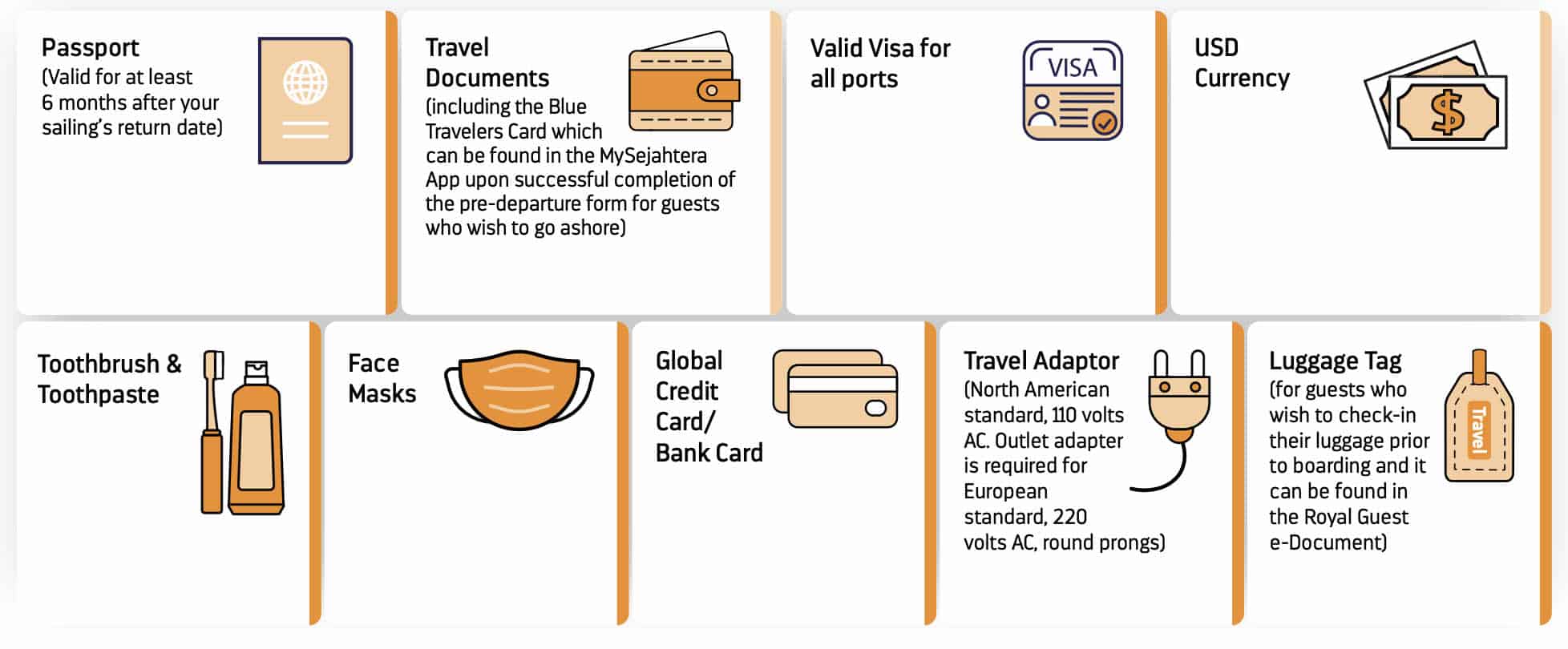 US dollars: just in case you experience trouble with your credit/debit card
Face masks: you have to wear this all the time when indoors, except when eating
Toothbrush and toothpaste: which will not be provided on board
Travel adaptor: the ship uses North American standard, 110V AC; and standard European 220/230 volts AC plug outlets
---
What are the prohibited items on board a Royal Caribbean ship?
Here are things that are not allowed on board. If found, these items will be confiscated immediately.

illegal drugs and substances
firearms and ammunition (including replicas)
flammable liquids and explosives
sharp object (shaving razors and scissors with less than 4 inches blade length are allowed)
items that produce heat and an open flame like candles, incense, coffee maker, hot plates, clothes iron, etc. (curling iron and hair straighteners are allowed)
extension cords
hoverboards
alcoholic beverages like beer, hard liquor, and fortified wines (On boarding day, guests may bring up to two 750-ml bottles of wine or champagne per stateroom but these must only be consumed inside their respective staterooms. It must be brought via carry on.)
other beverages
In a previous RC cruise, I didn't realize that extension cords were prohibited. (I always bring a small power strip when I travel.) I was wondering why my suitcase was not delivered to my room until I called and found out that my bag was temporarily held because it contained what looked like an extension cord. I went to their baggage area to retrieve my bag. They confiscated the extension cord, but they gave it back to me before I left the ship.
---
How to change details of my cruise booking?
If you booked via the international website of Royal Caribbean, you may call its United States hotline: 866-562-7625.
If you booked at www.cruising.com.ph, the website of the official Royal Caribbean representatives in the Philippines (Arpan Air), you may simply contact them via call, SMS, Viber, or Whatsapp at these numbers:
+63 998 983 7315
+63 948 526 6174
If you haven't booked yet, consider booking at www.cruising.com.ph to get easier customer support. They have access to the same system and inventory, and they can make changes to your booking or extend your payment. They can also assist you in preparing for your cruise.
And if you use our promo code — WORTHIT — you'll get an additional 5% DISCOUNT on the cruise fare! You can use this on top of any existing promos or discounts.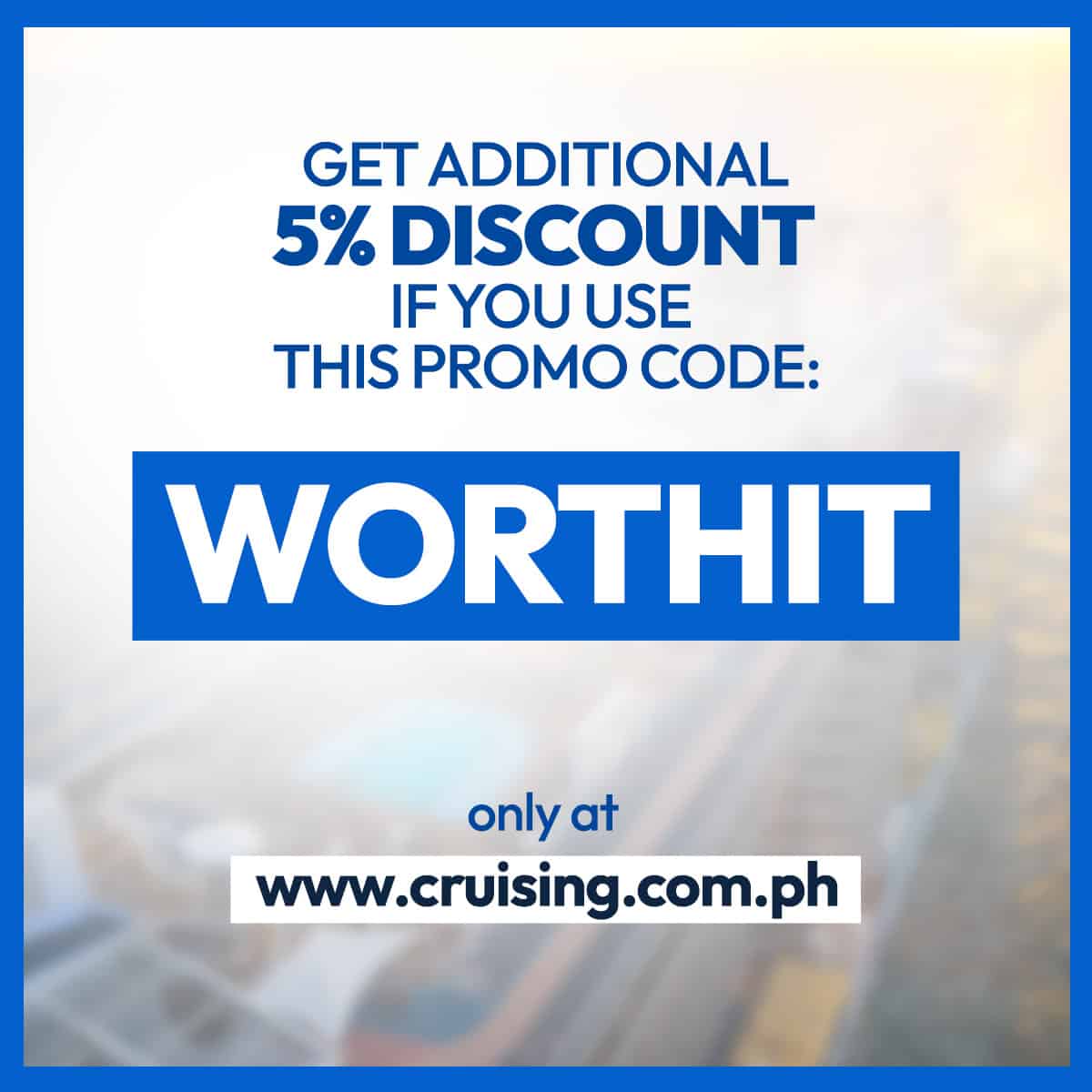 ---
Where is the cruise terminal in Singapore? How to get there?
In Singapore, Royal Caribbean uses the stunning Marina Bay Cruise Centre, located at this address:
Marina Bay Cruise Centre Singapore
61 Marina Coastal Drive, Singapore 018947
The closest MRT Station is Marina South Pier along the North South (NS) Line.
If you're coming from Changi Airport, here's how to get there:
From the Arrival Hall, walk to Changi Airport MRT Station. It's located between Terminals 2 and 3.
Board the train and alight at Tanah Merah Station. It's only 2 stops away. Travel time: 8 minutes.
Transfer to another train bound for Joo Koon or Tuas Link. This is still East-West Line (EW) or green line. You'll need to change platforms.
Get off at Raffles Place Station. It's 10 stops away. Travel time: 20 minutes.
Transfer to North South Line (NS) and board a train bound for Marina South Pier. This should take you only about a minute or so.
Alight at Marina South Pier. Only 2 stops away. Travel time: 6 minutes.
Take Exit A. Just follow the signs pointing to Exit A or Marina Bay Cruise Centre.
Walk to Marina Bay Cruise Centre. It's 600 meters away, roughly 10 minutes on foot. Find the departure and checkin area.
Total travel time: roughly 1 hour.
Total fare: SGD 1.97.
If you're coming from any other part of the city, just make your way to any MRT station and make your way to Marina South Pier Station along the North South Line (NS).
The faster and easier way is by taking a cab or a Grab car. Travel time is only 20-25 minutes. Grab fare is around SGD 19. For 6-seater vehicles, fare is around SGD 34.
---
How to check in and board the ship?
First, make sure you check in online or using the Royal Caribbean app at least 3 days before sailing. This would make the boarding process so much easier!
Check your Guest Ticket Booklet, a set of e-documents sent to you when you booked, and on the CRUISE SUMMARY PAGE (likely page 3), look for the Sailing Time. Often, it should be between 4pm and 6pm. In our case, it's 5pm.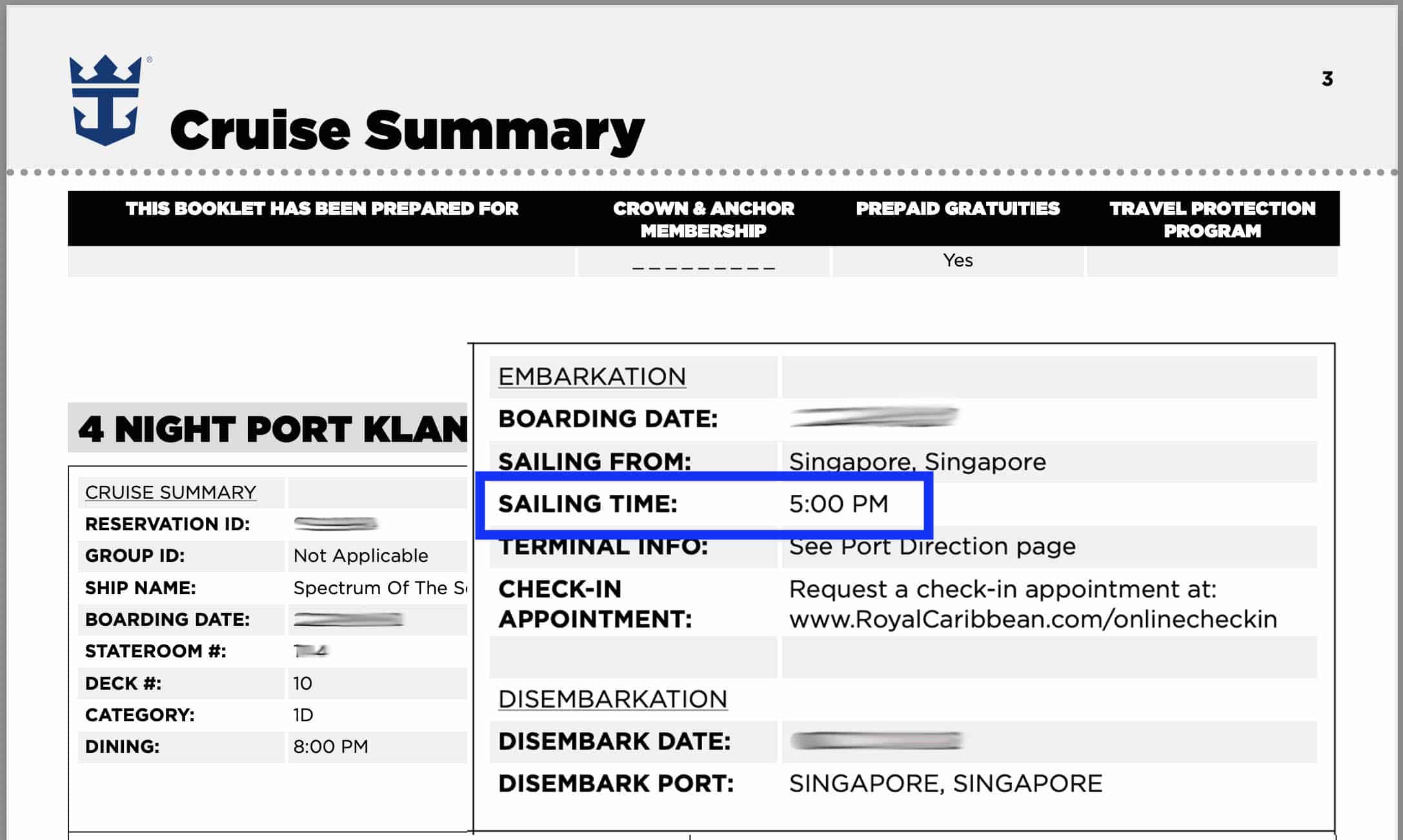 IMPORTANT! You need to be at the pier and ready for boarding no later than 90 minutes before your sail time. We recommend showing up much earlier so you could make the most out of that day. We arrived at around 10:30 AM and there were already a queue.
Here's the boarding process:
Attach the luggage tags to your check-in bags. You'll find it in the Guest Ticket Booklet, usually towards the last page. Print them out but attach it only after you've landed in Singapore. (The tags might get lost or damaged if you attach it before your flight to SG.) You can also do this while falling in line but bring some scotch tape.

Go to the luggage drop off area. But make sure you have your documents with you. Best to have a small carry-on or hand-carry bag.
Enter the terminal for Customs and security check. There is often another queue here that starts outside. When you pass the security check, you will be directed to the check-in hall.
Clear a series of document checks. After the security inspection, there will be more document checks. – First, staff member will check your passport, SetSail Pass, proof of vaccination, and negative test result (if applicable). Once satisfied, they will affix a sticker at the back of your passport and write your stateroom number on it.
– Second, staff will check your Malaysian requirements if you intend to get off the ship in Port Klang or Penang. They will check your MySejahtera app for the gold Digital Certificate proving you have uploaded your vaccination details and proof to the system. Once OK, they will give you a MySejahtera card that you to keep with you. You'll be presenting this card when you disembark at Malaysian stops or ports of call.
– Third, another staff member will hand you a color-coded boarding card, which corresponds to your boarding area.

Finalize your check-in and present your travel documents at the counters. If you were not able to check-in online, you will need to fill out the check-in forms on the spot. Once everything is in order, a photo of you will be taken.
– If you did not enter a payment method (credit/debit card) via the app, a refundable deposit of at least US$100 will be collected for incidental expenses. You will be able to take it back before you leave the ship, unless you make purchases on board.
– Once done, you will be given a printed out "checked in" version of your SetSail Pass.
– If you check your Royal Caribbean app, it should display you're CLEARED TO BOARD.
Proceed to the assigned boarding area. This depends on the color of the boarding card assigned to you. Wait for the boarding announcement.

When boarding starts, go to the Immigration Hall for departure clearance. Note that you're technically exiting Singapore at this point, so you'll have to accomplish the Singapore Arrival Card again later on, before the ship returns to SG.
As you enter the ship, another staff member will collect your passport. You will get your passport back a day before you disembark.
That's it! You're in! Welcome aboard!
---
What to do after boarding?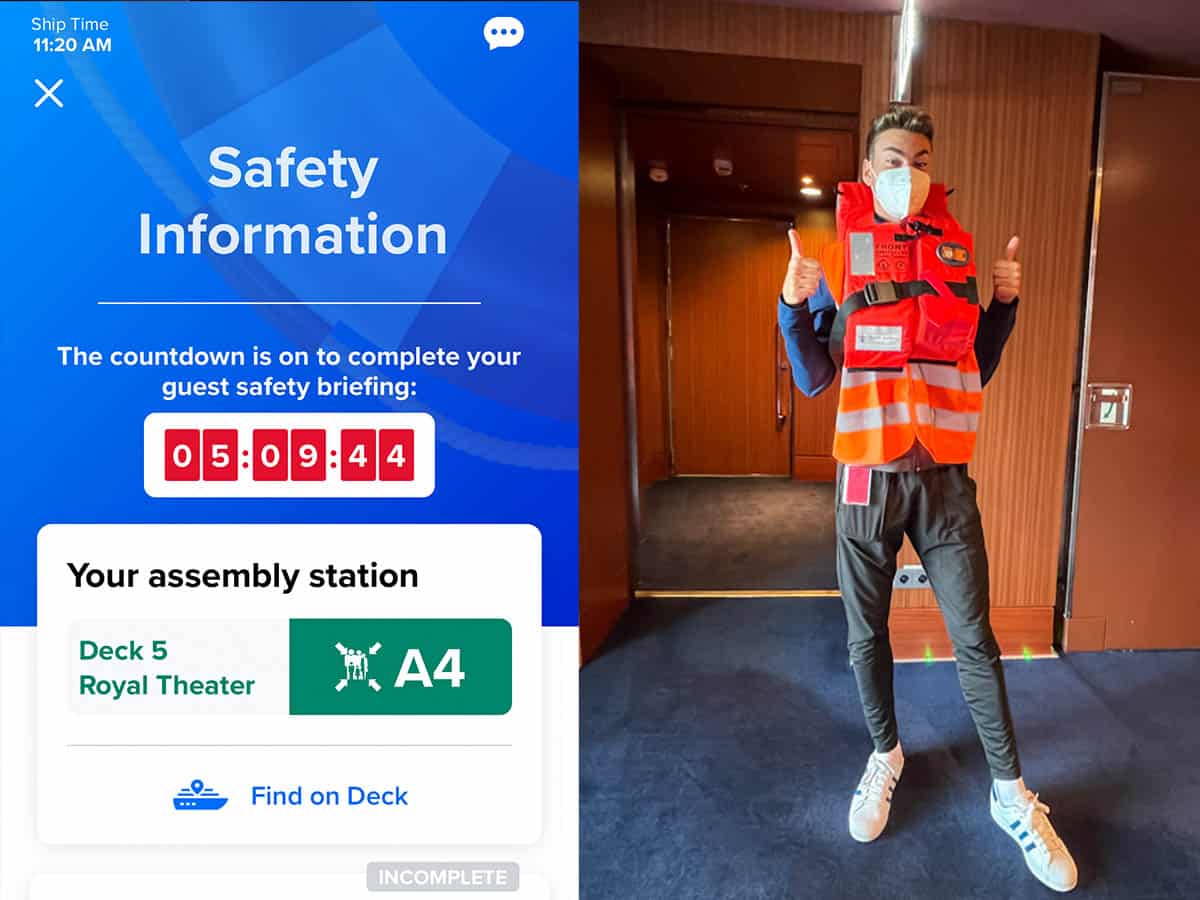 Attend a safety demo. Check your Royal Caribbean app for the venue. It will also show you a map and instructions on how to reach it. Once completed, you'll be given a colored sticker that you must attach to your shirt, somewhere visible.
Have lunch at the Windjammer Marketplace on Deck 14. Help yourself with treats from their extensive international buffet selection as you wait for your room to be ready (usually 2-3 hours after boarding but can be as late as 6pm). You may also explore the top deck or the pool area and admire the view.
Proceed to your stateroom. You'll find your SailPass card attached to your door. Don't ever lose this card. This acts as your key card as well your wallet/credit card as purchases on board can only be made via this card. This is also the only way for you to get on and off the ship. The SeaPass card looks like this:

Find your check-in luggage in the hallway, just outside your room. If you can't find it, contact Guest Services because they might be holding it because they suspect it contains a restricted/prohibited item or the luggage tag might have gotten lost.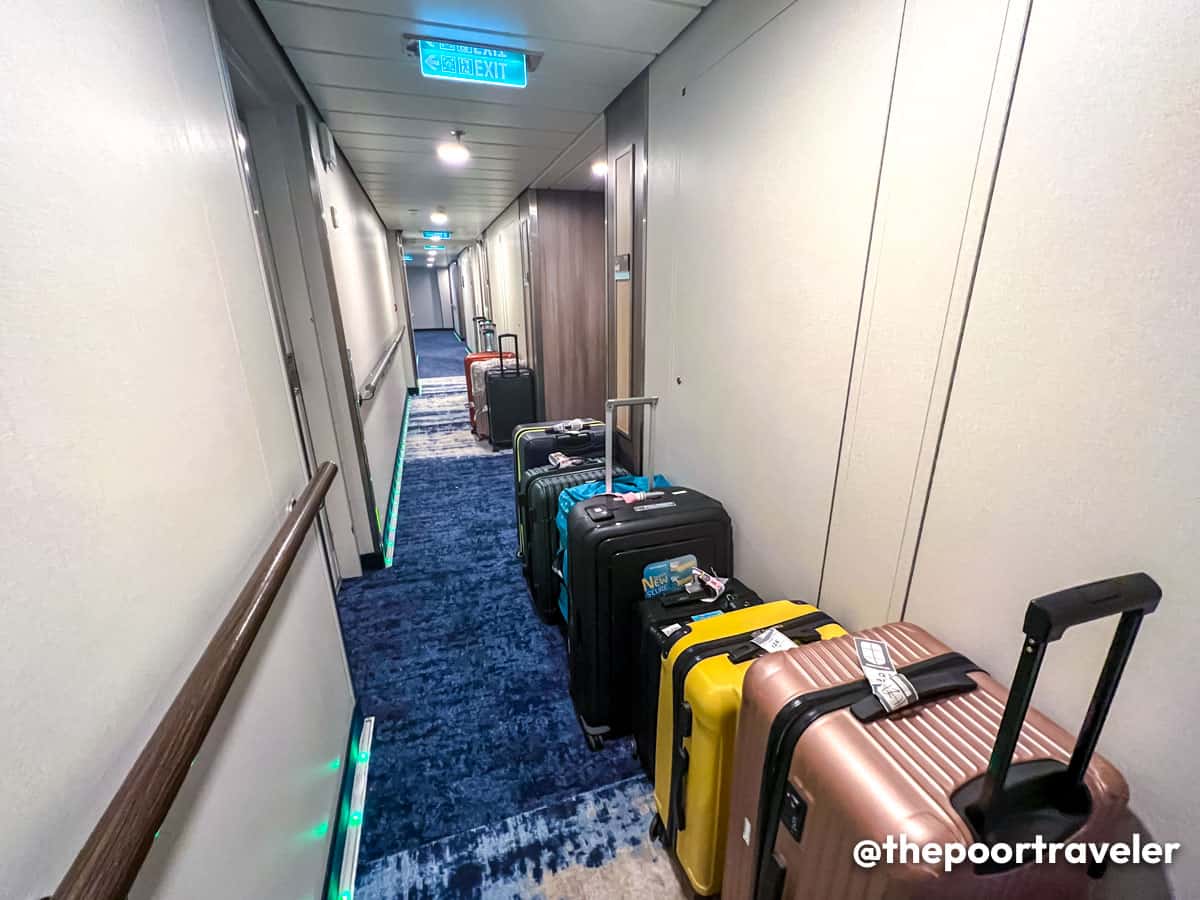 ---
Where to Eat on Board
Each booking comes with access to six (6) complimentary dining options:
Main Dining Room: a proper restaurant, international cuisine; multi-level dining place; open for breakfast, lunch, and dinner; Deck 3-4, Aft
Windjammer Marketplace: international cuisine; buffet style; open for breakfast, lunch, and dinner; Deck 14, Aft
Noodle Bar: Asian noodles; open for breakfast, lunch, and dinner; located inside Windjammer Marketplace
Splashaway Café: kiddie meals; open for breakfast and lunch;located near the kid's pool area; Deck 14, Mid
Sorrento's – Authentic New York Pizzeria, open for lunch and dinner; Deck 14, Aft
The Café @Two70®: continental food; serves mostly salads, sandwiches, and soups; open for breakfast and lunch; Deck 5, Aft section
SeaPlex Dog House, a "food truck" serving tasty hot dogs, located inside SeaPlex, open for lunch and dinner, until 7PM only; Deck 15, Aft
Dining at any of the above is FREE of charge, and you can have as much food as you like. When I like a particular dish, I order another serving. Even at the Main Dining Room, if I like two main dishes, I order both. It's okay and it's allowed. You can even ask for items that are not on the current menu. The first time I had a meal here, they served a cheese platter, which I enjoyed. But it was no longer on the menu after that but I always ordered it regardless and they would bring oblige (LOL).
The menu at the Main Dining Room changes every meal, but here's a sample: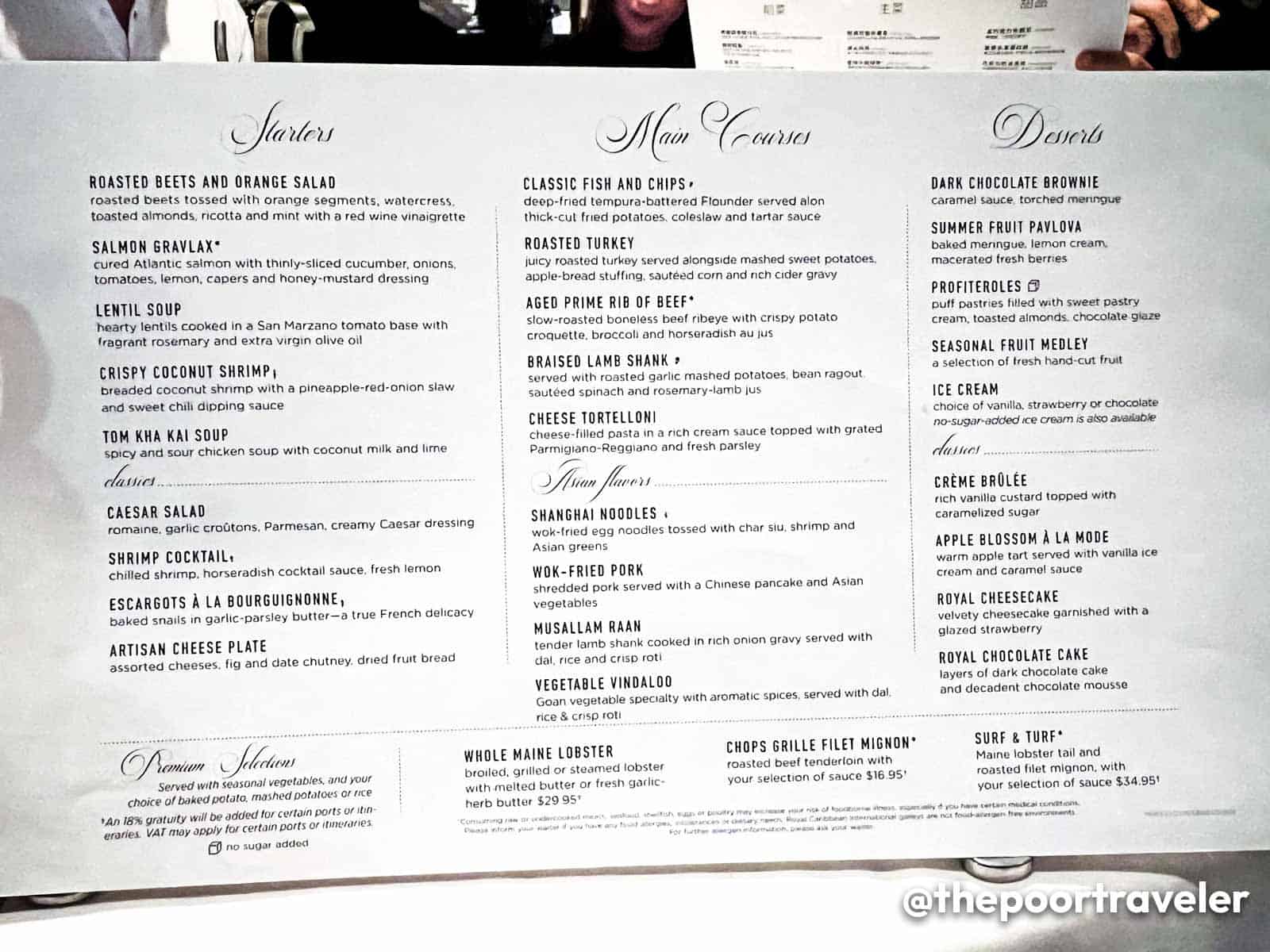 Because of the sheer diversity of the cuisines that are available for FREE, it is entirely possible to complete the trip without spending anything more on food.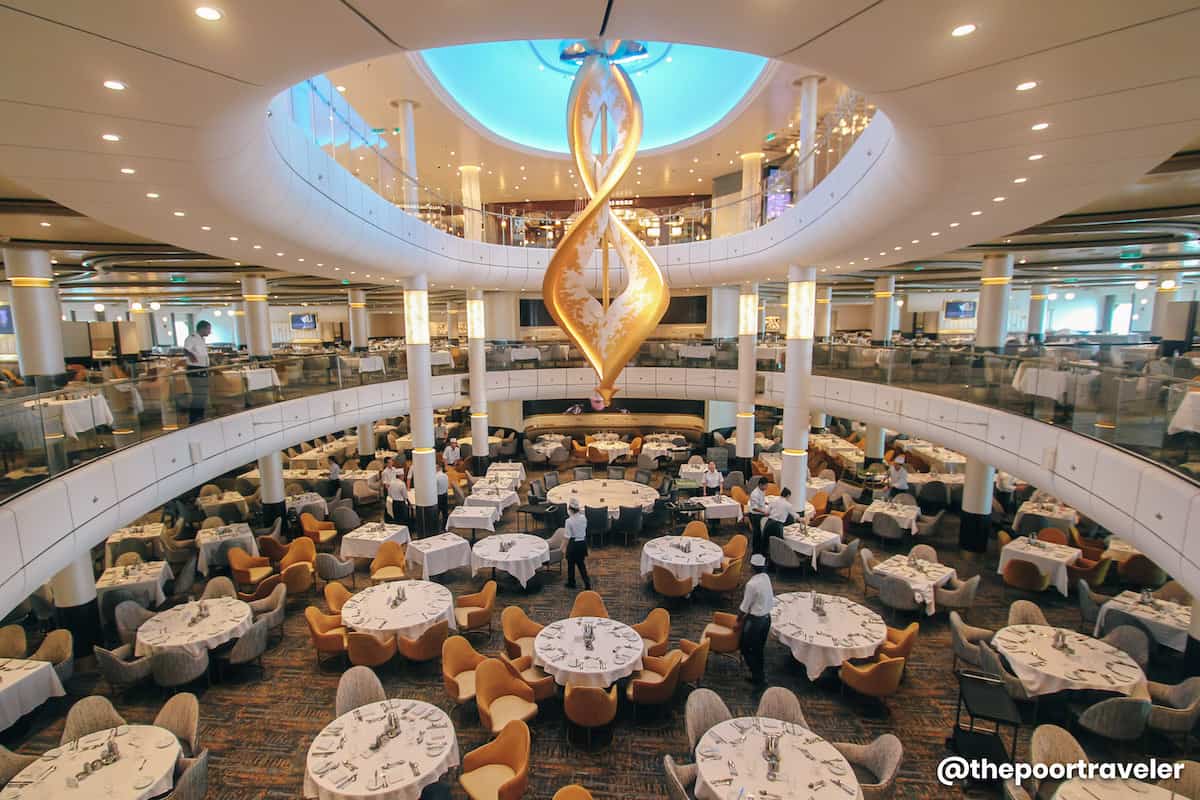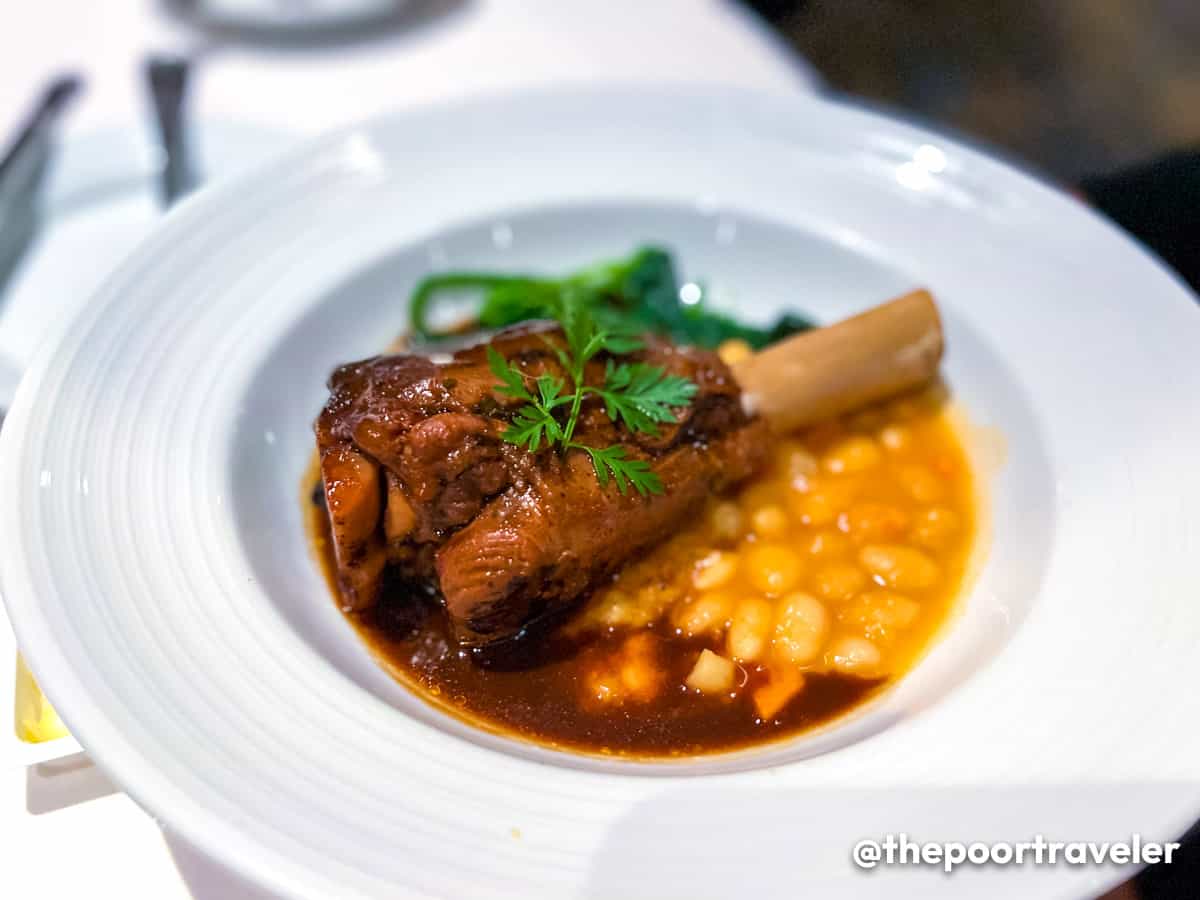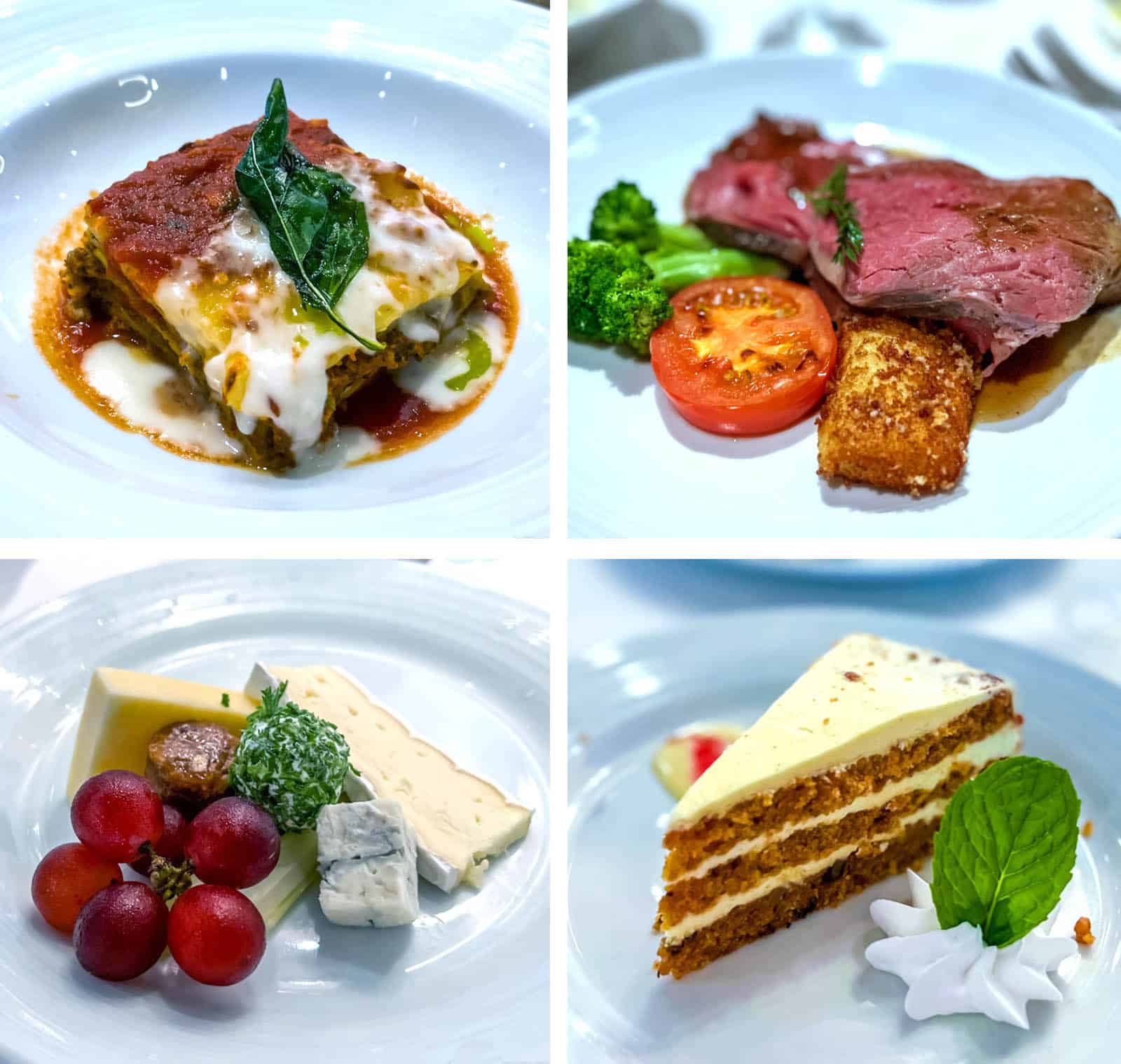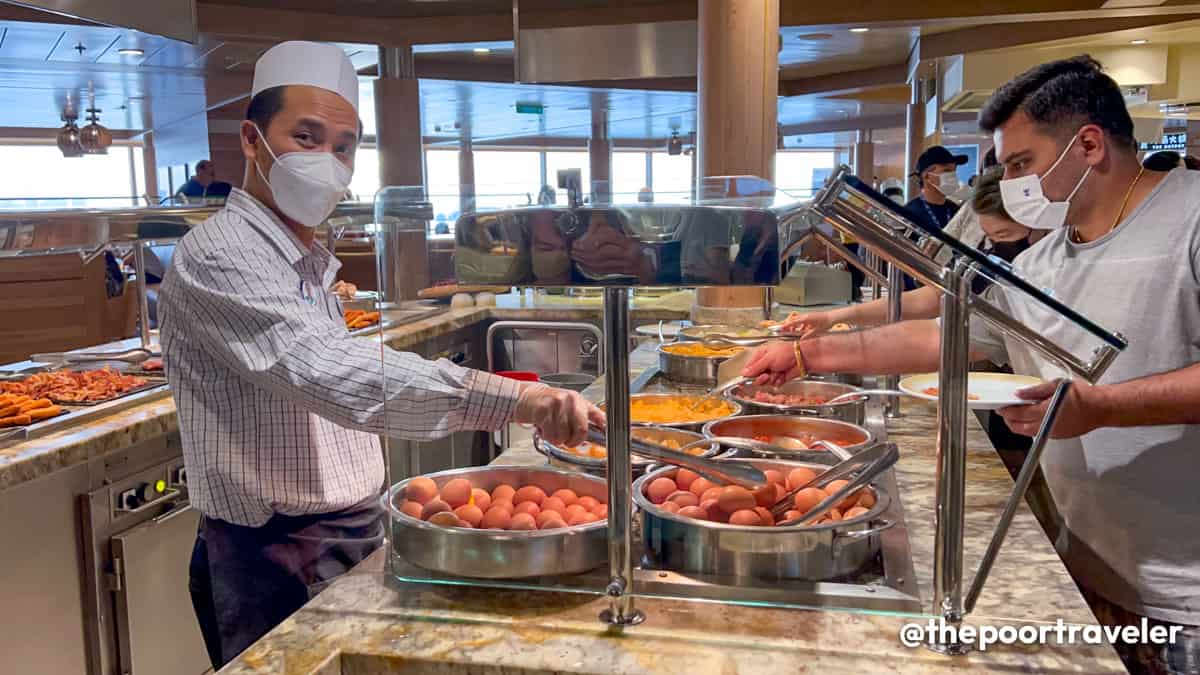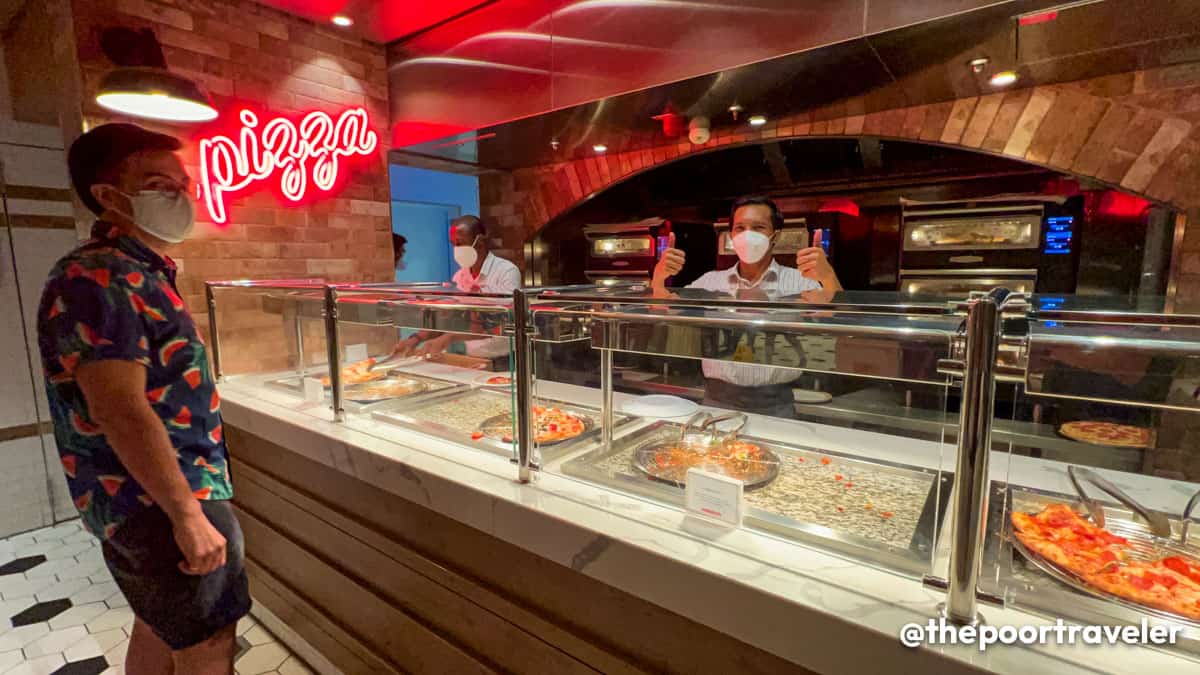 But if you want to splurge a little, aside from these complimentary food spots, you'll also find specialty restaurants that incur additional charges, including:
Chops Grille: steakhouse, best for prime meat and Maine lobster; open for lunch (on sea days only) and dinner; Deck 5, Midship
Teppanyaki: Japanese food prepared and served by entertaining chefs; open for lunch and dinner; reservation and purchase via Royal mobile app or cruise planner; Deck 14, Mid
Jamie's Italian by Jamie Oliver: Italian cuisine; popular on the menu are meat plank and pasta; open for lunch and dinner; Deck 5, Aft
Wonderland: creative and innovative Alice-in-Wonderland-themed dining; open for dinner; Deck 5, Midship
La Patisserie, pastries, desserts, ice cream, and coffee; Deck 4, Midship
Chef's Table: continental food; five-course meal and wine tasting; open for dinner; Deck 5, midship
Izumi: Japanese cuisine; popular on the menu are the sushi and sashimi options; open for lunch and dinner; Deck 5, Midship
Sichuan Red: Chinese cuisine; specially designed for Spectrum of the Seas; open for lunch and dinner; reservation and purchase via Royal mobile app or cruise planner; Deck 4, Midship
The Hot Pot: Chinese cuisine; hot pot style cooking; located inside Windjammer Marketplace, Aft
Vintages
Leaf & Bean cafe: wide selection of hot and cold drinks with pastry offerings; Deck 4, Midship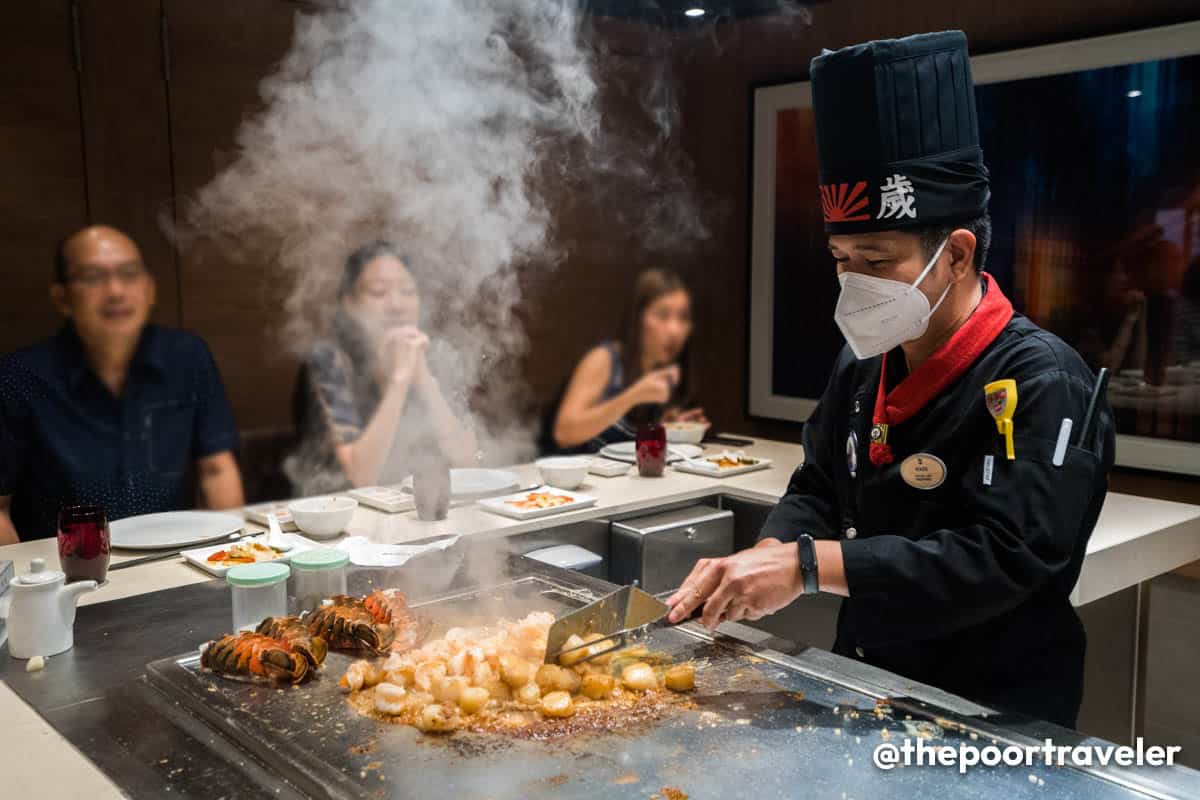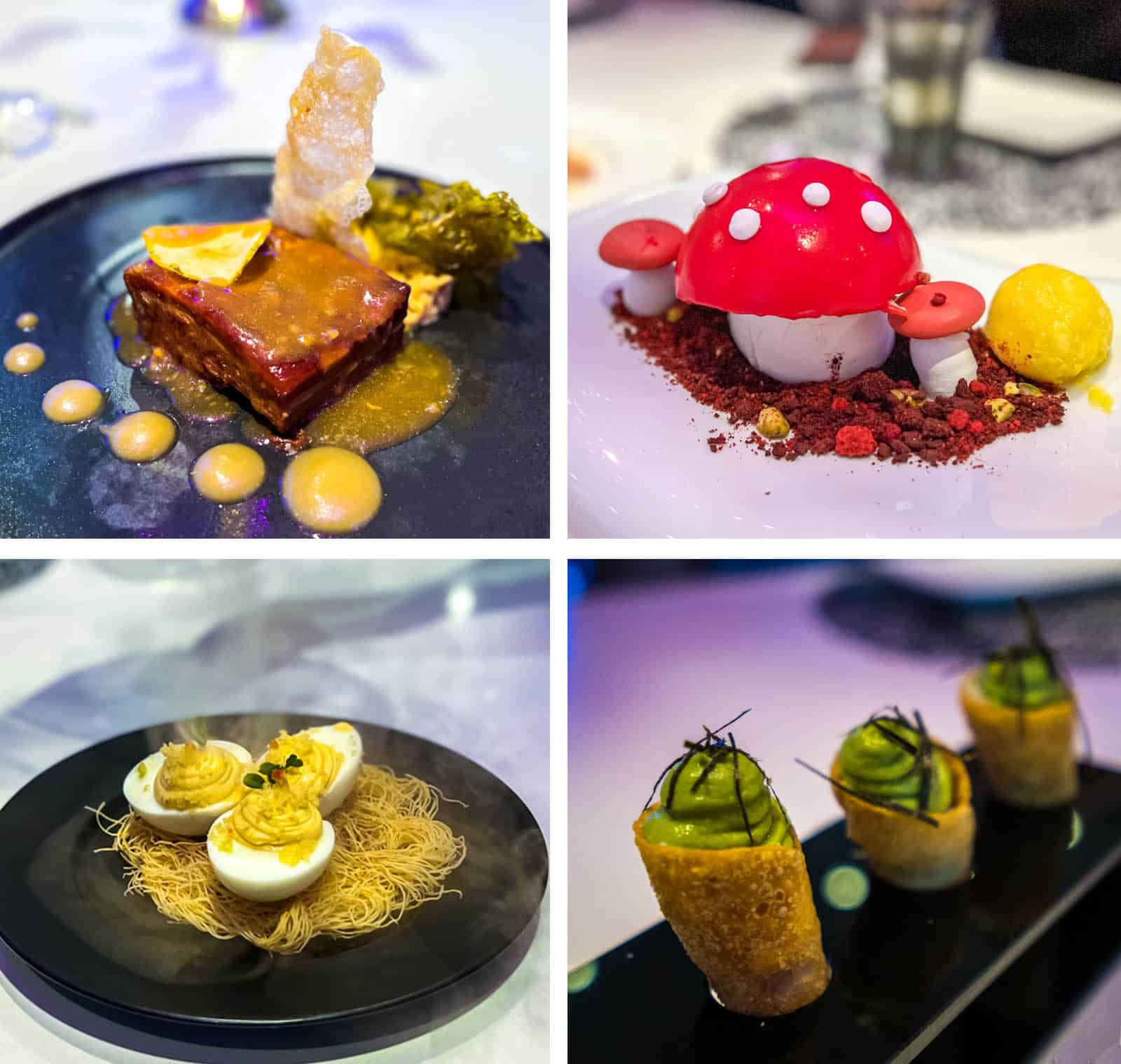 We'll be creating a separate article discussing each of the dining spots we have tried on board, so watch out for that.
Reminder: ALWAYS wash and sanitize your hand BEFORE and AFTER you eat. There's a hand-washing or hand-sanitizing station at every restaurant's entrance/exit.
Room service is also available but a US$7.95 service charge + 18% gratuity applies per stateroom order except for continental breakfast.
---
Things to Do On Board
So I asked some of my friends who never considered cruising before: What do you think are in store for you on board? Unsurprisingly, most of them said "eat, drink, and party." But nothing much other than that. I say "unsurprisingly" because years ago, I thought the same, too! When I was younger, the only mental images of cruising to me were painted by the movies I saw wherein rich retirees just socialize at cocktail parties. LOL.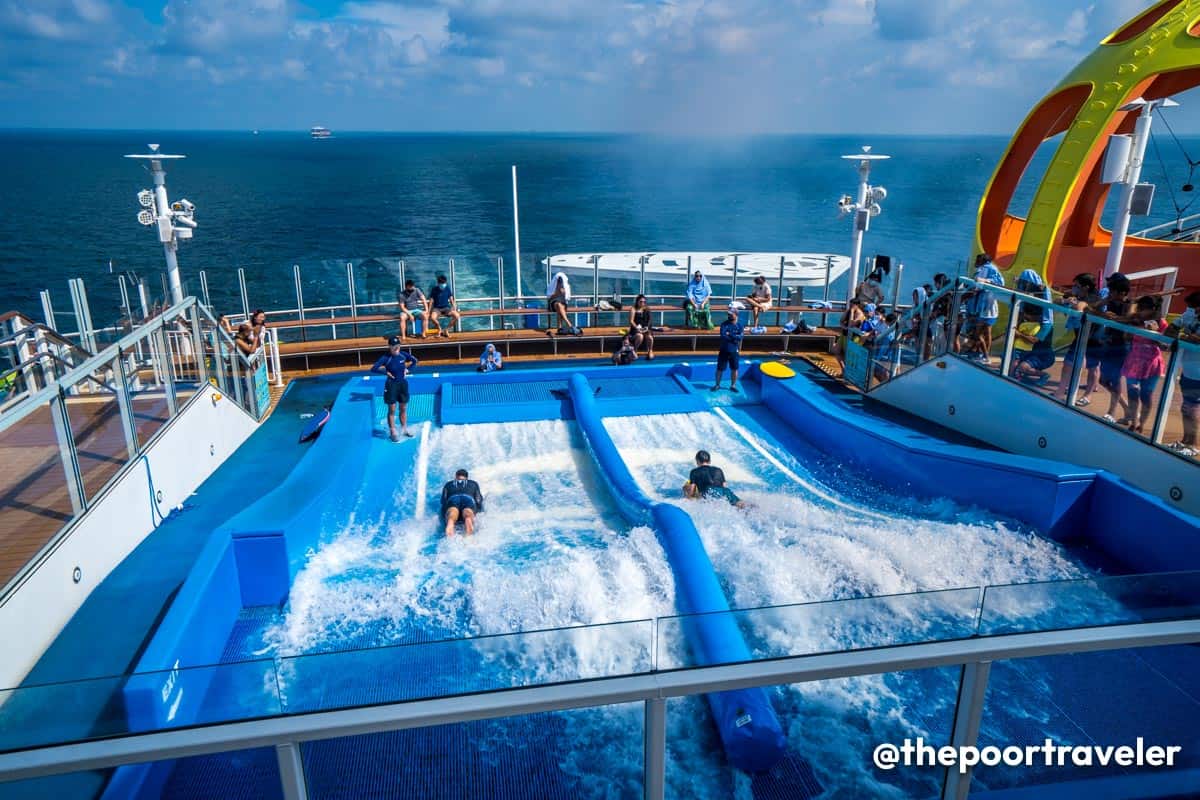 But the truth is, boarding a cruise ship is like stepping into another world. There's just a globe of things to do on board! Competition among cruise lines is intense, so every one is continuously one-upping the others by offering a lot of features, depending on the target market. Royal Caribbean, for example, has been filling their new ships to the brim with fun and exciting amenities. As one of their largest ships, the Spectrum of the Seas has more than its share of thrilling attractions and lifestyle spaces.
Here are some of them: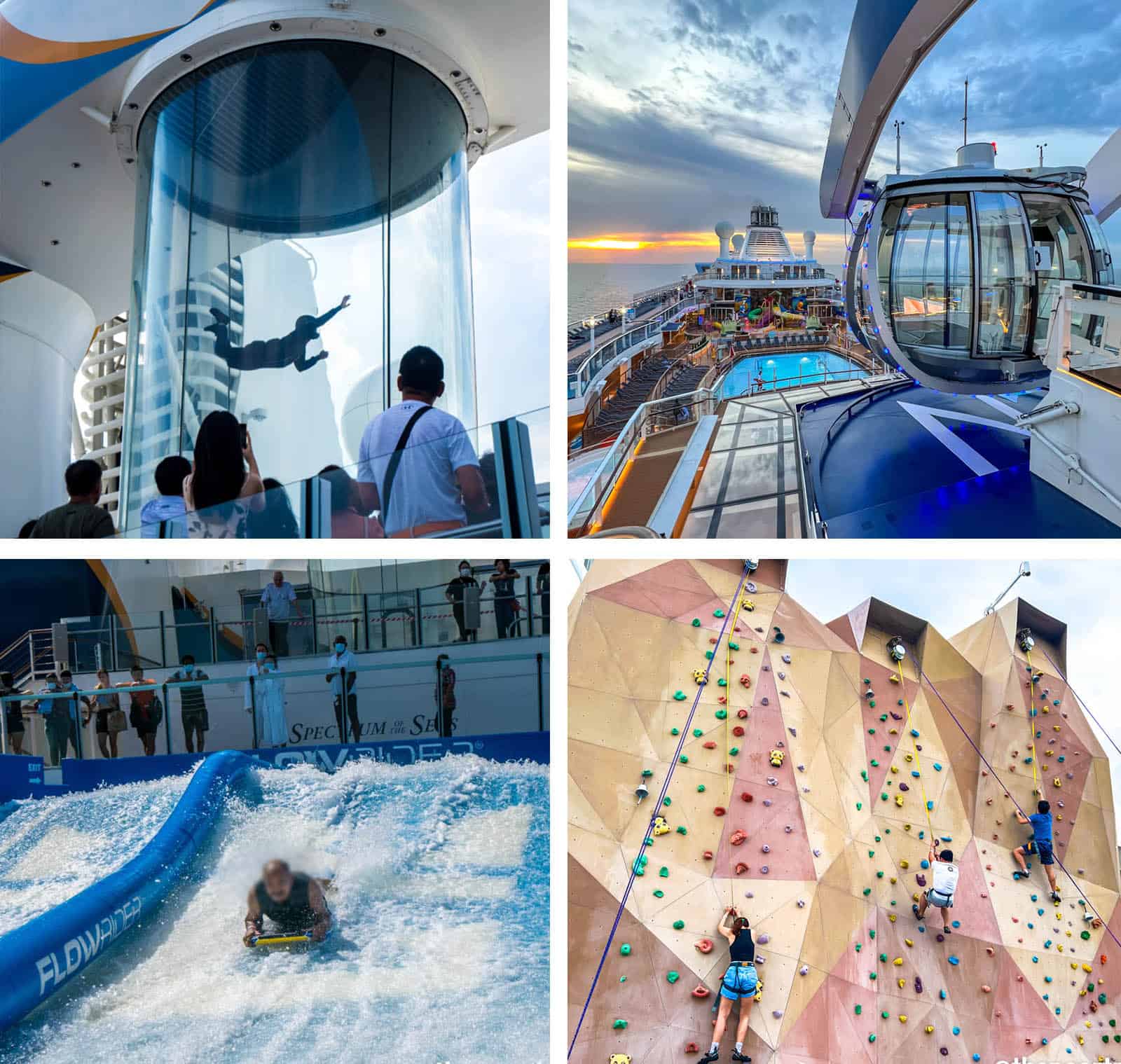 RipCord by iFly, simulated skydiving experience (with extra cost)
FlowRider, simulated surfing activity (FREE, but instructor fees apply if you need one)
Skypad, bungee trampoline with virtual reality headset (FREE)
Rock climbing wall (FREE)
Royal Theatre, where musical and other entertaining performances are regularly staged (most shows are FREE)
SeaPlex, a sports complex where you can ride bumper cars; play tennis, pingpong and basketball; try archery; and more! (FREE)
North Star, a glass-enclosed observation pod and capsule ride that allows a 360-degree view (with extra cost)
Swimming pools and whirlpools (FREE)
Music hall, with band performances every night (FREE)
Star Moment, karaoke! (FREE)
Spas and gym (FREE)
Video game arcade
We were able to try almost everything on the list and we really had a lot of fun! We were at the Music Hall every night and would spend our high-seas day trying most of the rides and attractions.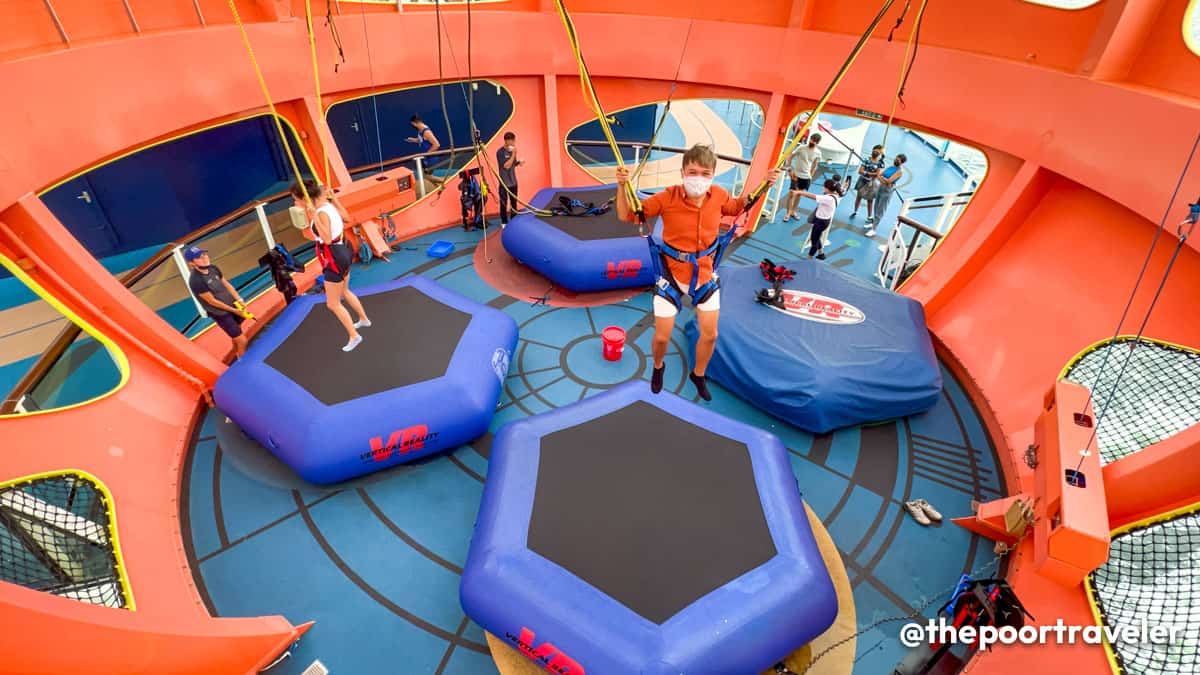 And oh, don't forget to catch at least one of the awesome shows at the Royal Theatre and the Two70!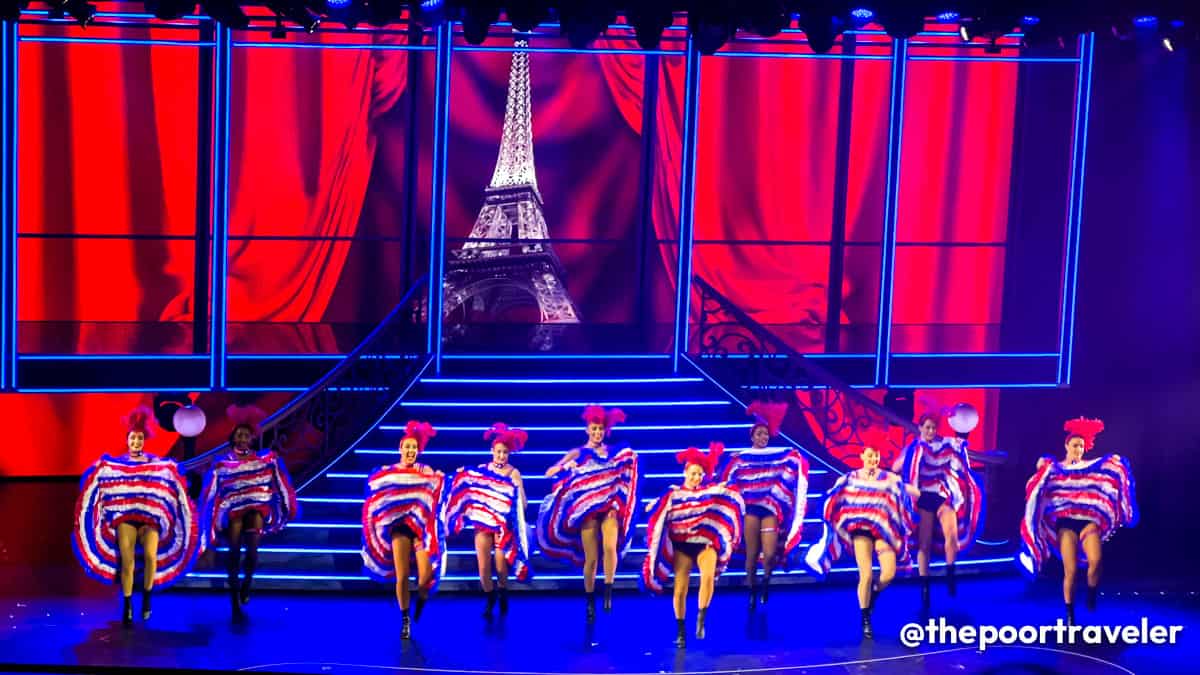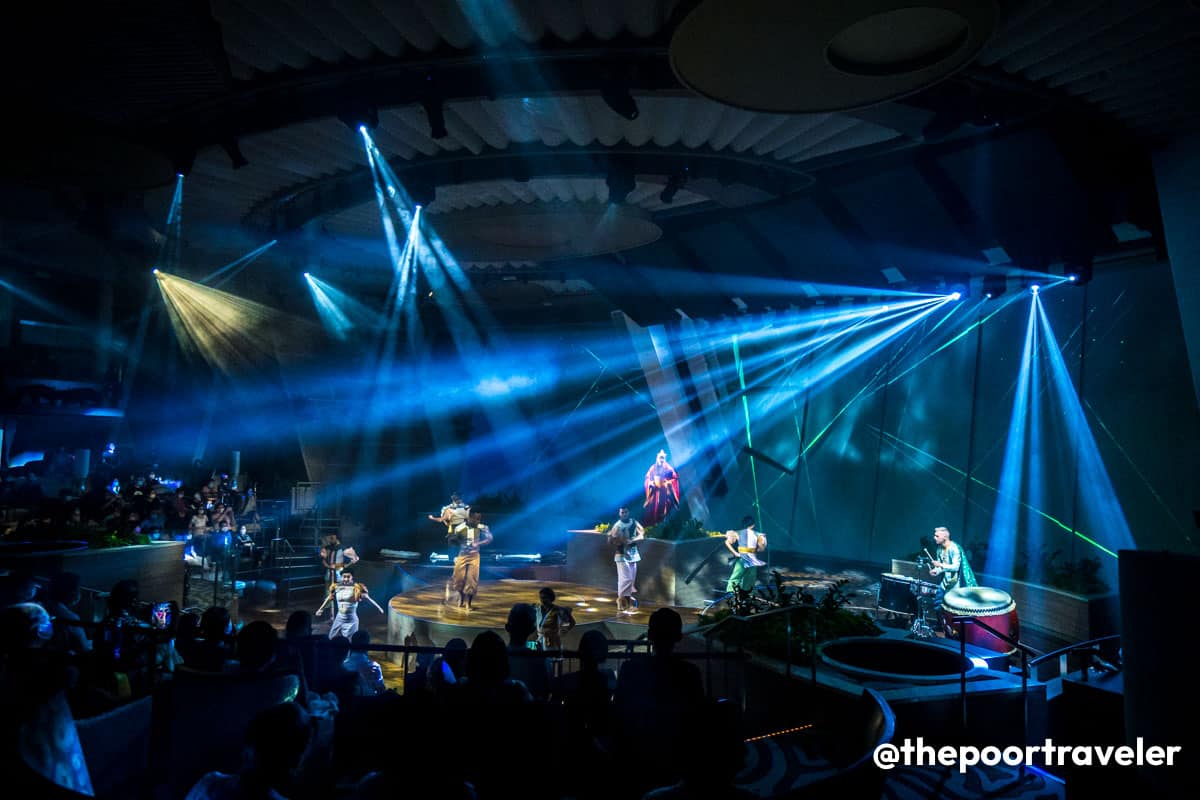 ---
Attractions for children/toddlers
Children have their own swimming area called Splashaway Bay, complete with water slides.
The SeaPlex, a sports complex, composed of game rooms and a lot of kid-friendly attractions like an arcade, video game rooms, archery room, bumper cars, and claw machines.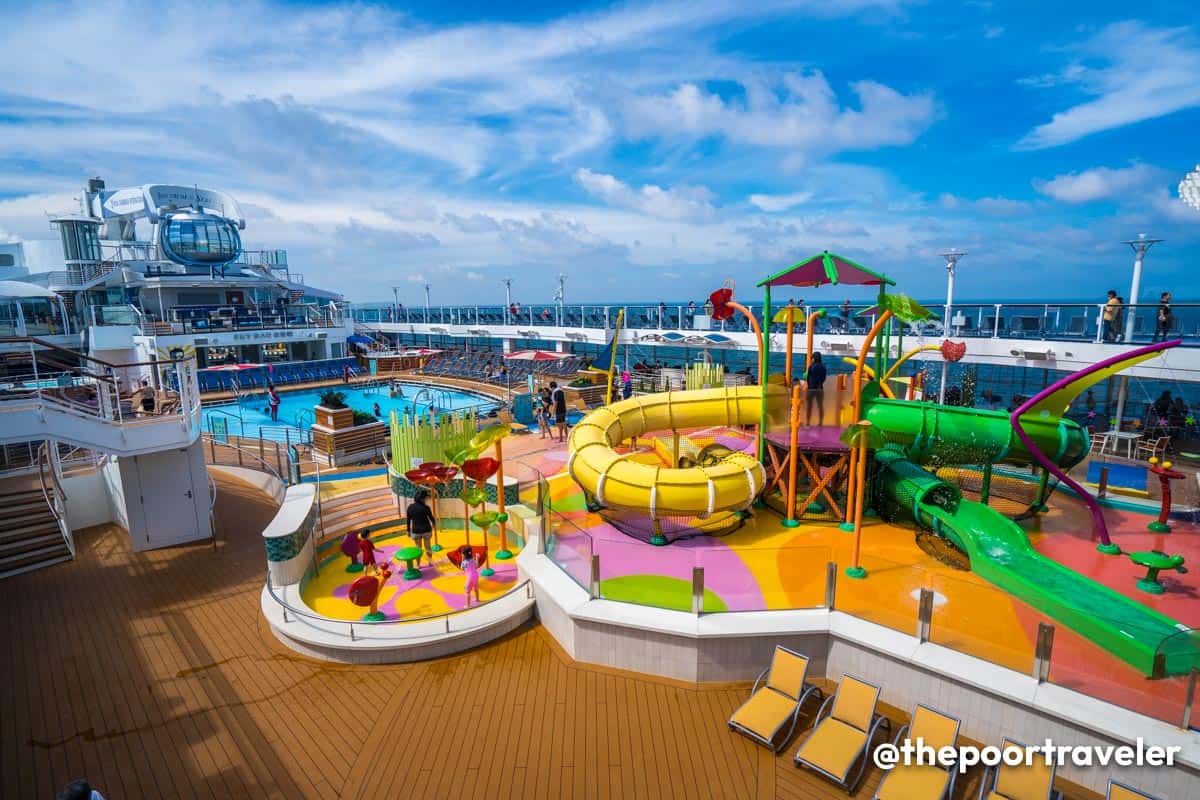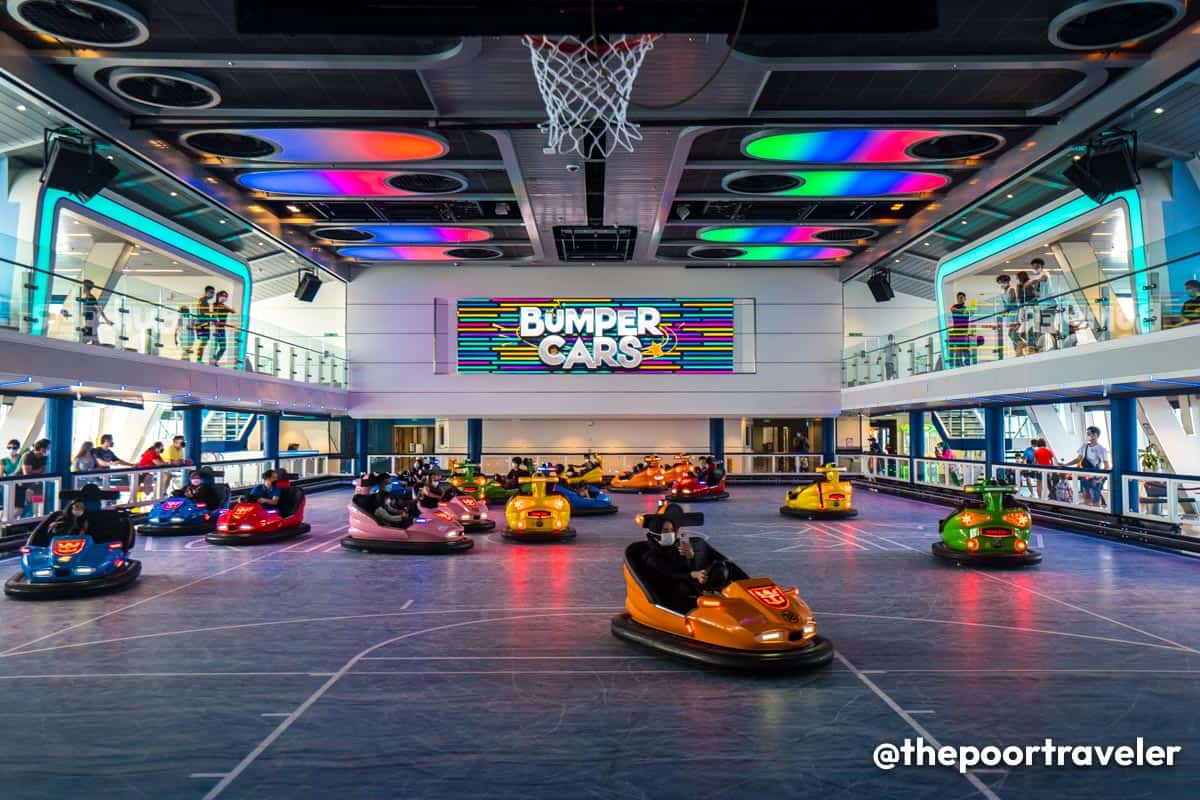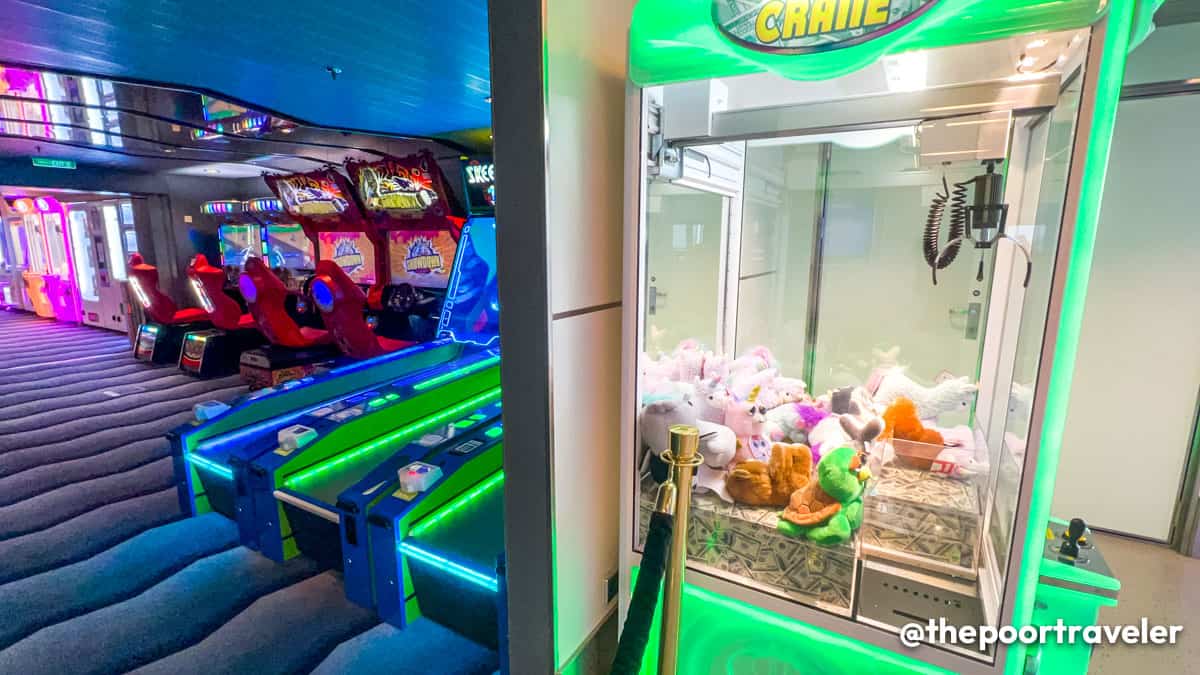 Some of the shows at the Royal Theatre are also wholesome, which kids can enjoy.
The Spectrum of the Seas also has a so-called Adventure Ocean program, which is basically a youth club or day care, where children ages 3 to 11 can play with other kids. Parents can drop off their kids here.
---
Exploring Ports of Call
As of now, most sailings last 3 nights to 5 nights, usually making a stop in the following ports of call in Malaysia and Thailand.
3 nights: Penang
4 nights: Port Klang/Kuala Lumpur and Penang, OR Penang and Phuket
5 nights: Port Klang/Kuala Lumpur, Penang, AND Phuket
You have the option to book a guided tour from Royal Caribbean called SHOREX (Shore Excursion) or you can explore the destination on your own.
The beauty of joining a shorex is they will be taking care of everything for you, including the transfers to and from the port, but it usually comes with a rigid itinerary. Visit the Shore Excursion Kiosks on Deck 5 (Midship) to know more about the different tour packages before the day of docking.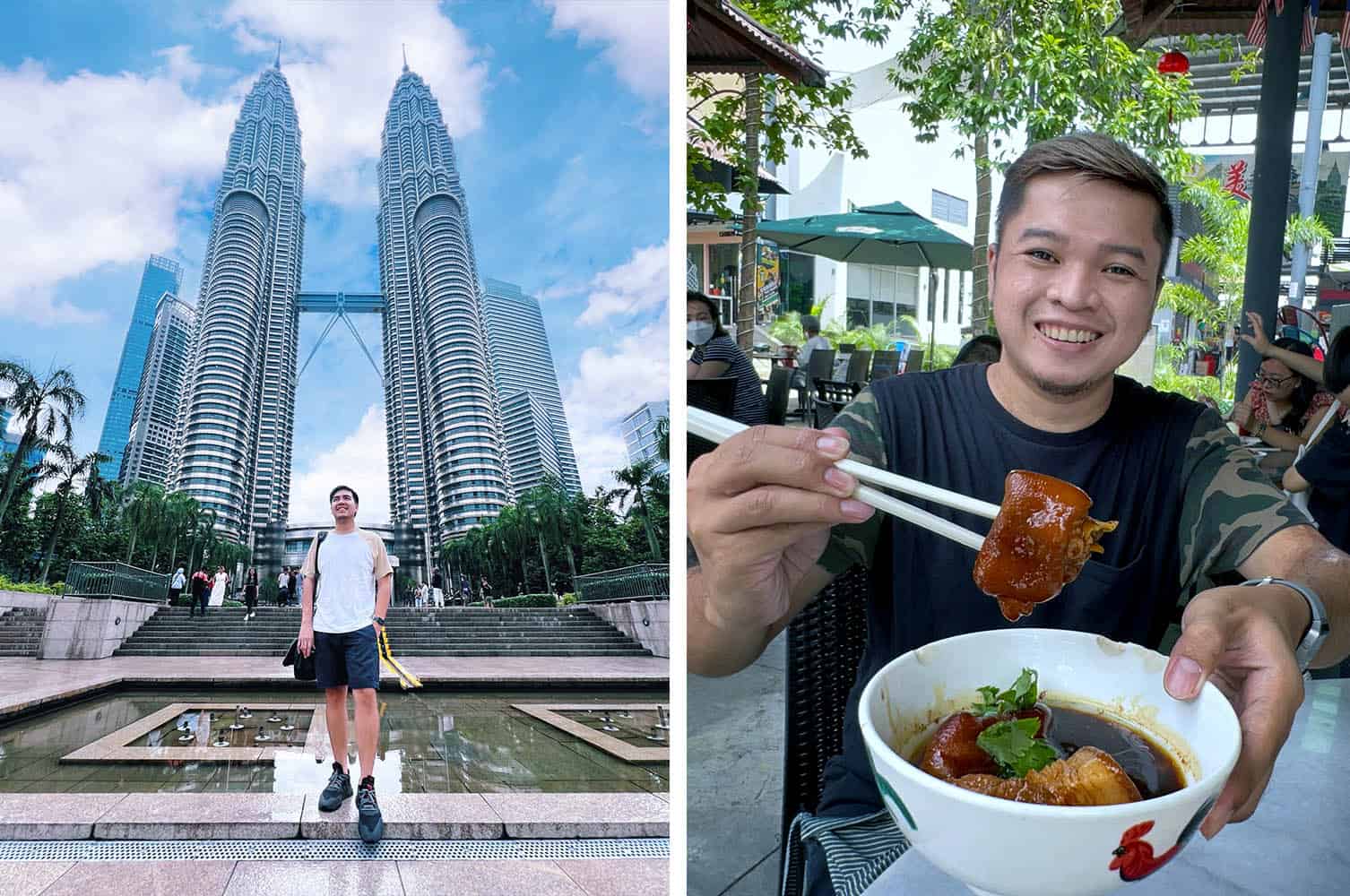 If you want more freedom and flexibility, you can explore independently. But just make sure that you'll be back to the ship before the set time. You can see the arrival and departure times on the Royal Caribbean app.
Penang and Phuket are quite easy to explore because the pier isn't too far away from the main points of interest or city center. But Port Klang is tricky because it's roughly 1.5 to 2 hours from Kuala Lumpur, depending on traffic conditions. This means, you'll be spending at least 3 hours on the road.
Whether joining an arranged group tour or doing a DIY, don't forget your SeaPass Card and a photocopy of your passport.
Important! You have to be fully vaccinated to explore ports of call.
---
Things to do on your last night on board
Accomplish the Singapore Arrival Card. Yes, you'll have to do it again. Since you'll be passing through Immigration upon boarding the ship, you'll be leaving Singapore. When you disembark, you'll actually be reentering the country, so you'll need to complete this form again. You can do this much earlier, anytime within 3 days prior to your arrival in Singapore.
Claim your passport at the designated area. It's usually at the lobby or elevator space nearest your state room.
Pack your things and leave your bag outside your door by 10PM. Set aside your clothes for the next day and all your valuables and travel documents in your carry-on bag. Your room attendant will leave another set of luggage tags on your bed or at the door. Don't forget to attach the tags to your suitcase before leaving it outside.

If paying cash, settle your bill if you made any purchases. Just approach the GUEST SERVICES desk to do so. If using a credit card, the bill with be automatically charged to your card. These days, most bookings already include pre-paid Tips/gratuities are mandatory, so you will be charged, more or less, US$14.5 PER NIGHT. The collected amount will be shared by the service staff.
---
How to disembark
You can still have your breakfast the morning on the day of your departure. Breakfast is served as early as 6:00am. Here are the food places that normally serve breakfast: Windjammer Marketplace (Deck 14), Café @ Two70 (Deck 5), and Main Dining Room (Deck 3).
When it's time to get off the ship, follow these procedure:
Proceed to your departure lounge and then the gangway on Deck 5. Upon exiting, a staff member will scan your SeaPass card or your passport.
Undergo immigration check for arrival clearance.
Once cleared, collect your luggage at the baggage claim area. Check your luggage tag number to be sure.
One more thing: if you're flying to the Philippines after the cruise, you'll also need to accomplish ONE HEALTH PASS, which is a requirement by the Philippine government. If you don't have booster shot, you'll also have to take a COVID-19 antigen test prior to your flight.
That's all for now. In our next cruise-related posts, we'll be tackling the many dining options and attractions on board the Spectrum of the Seas! So follow us on our social media channels to stay updated!
---


Royal Caribbean International is an award-winning global cruise brand. Its many achievements include the "Best Cruise Line Overall" for 15 consecutive years (TTG Travel Awards) and the "Best Cruise Line" since 2015 (Travel Weekly Asia's Reader's Choice Awards. It boasts 26 of the world's most innovative cruise ships to famous destinations such as Bermuda and the Caribbean, Europe, Canada and New England, Alaska, South America, Asia, and Australia and New Zealand.
Arpan Air Inc. is the official representatives of Royal Caribbean in the Philippines.
---
Written by Yosh Dimen
Photos by Yosh Dimen & Vins Carlos
Additional words by Asta Alvarez
Additional images courtesy of Royal Caribbean International
2️⃣0️⃣2️⃣2️⃣ • 9️⃣ • 2️⃣0️⃣
---
[ad_2]

Source link